☰
THE WILLIAM TELL PROJECT


The William Tell Project is all about teaching freedom loving people to become strong independent individuals like the legendary patriot and freedom fighter William Tell. The simple but powerful story of William Tell has been inspiring patriots for generations to be like William Tell and will inspire and encourage everyone today who reads this book. The very act of reading and sharing this famous story of freedom is an act of defiance to tyranny because the last thing that tyrants ever want is for people to know that one brave person on fire for freedom can fight back and win!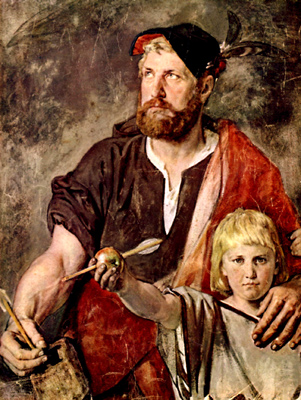 This project is therefore A WAY for ANYONE ANYWHERE to BECOME INVOLVED in the FIGHT FOR FREEDOM. Unlike political organizations and others that claim to fight for freedom but accomplish little of lasting value this project possesses the real power to create change because it speaks directly to the hearts and minds of people through the power of great literature. As the American Patriot Samuel Adams once stated: "It does not take a majority to prevail...but rather an irate minority, keen on setting brushfires of freedom in the minds of men." The story of William Tell as written by Friedrich Schiller can create just such "brushfires of freedom" in the minds of people everywhere by inspiring them with one of the greatest stories of freedom ever recorded in literature.
ALL YOU HAVE TO DO TO PARTICIPATE IS
READ AND SHARE
THIS WONDERFUL STORY OF FREEDOM
WITH EVERYONE THAT YOU KNOW AND
ENCOURAGE THEM TO DO THE SAME!
IT IS THAT SIMPLE!!!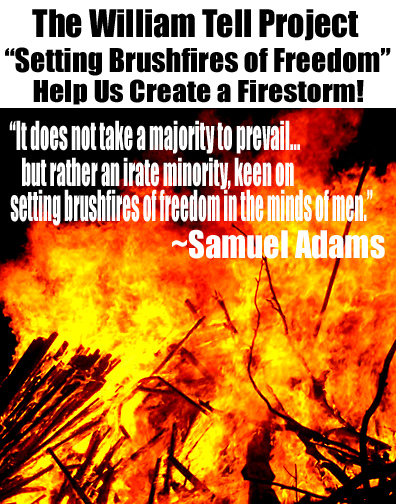 The complete book along with a special introduction by Ben D. Kennedy is available ONLINE & COMPLETELY FREE here at the Maid of Heaven Foundation at WILLIAM TELL BOOK
To Better Understand The Story Of William Tell And Why It Has Such A Powerful Message About Freedom Watch The Classic Scene Where William Tell Is Forced By The Tyrant Gessler To Shoot The Apple From The Head Of His Son To Save Both Their Lives:
FOR EVERYONE
If you have never read the entire William Tell play by Schiller before then you are in for a real treat because it is so much more than just the tale of one man. William Tell is of course the hero of the story and does inspire the popular uprising that occurs but the real message is about how average decent freedom-loving people can effectively fight back against tyranny and win. This is why the story has been so popular among people over the years because it gives hope to anyone anywhere in similar circumstances that they can also achieve their freedom by fighting back in the same way. Once you understand this message and how powerful a message it truly is then you can see how sharing this story with others is so important.
Sharing the story of William Tell is as easy as:
Reading the story to your children or grandchildren.
Reading the story to your friend's children or grandchildren.
Reading the story to your friend.
Posting a link to the play on your Facebook or Twitter page.
Encouraging everyone you know to also share the story with everyone that they know!.
FOR SCHOOL TEACHERS
Schiller's play about William Tell is considered one of the great classics in all of literature and rivals the famous plays of Shakespeare. At one time in America this play was considered an essential part of course curriculum precisely because it is a great classic that also teaches the basic values that all freedom loving citizens of a democracy should possess. For specific details about how this play by Schiller can be taught in schools please read "Instructions for Teachers" by Charles A. McMurry, Ph.D. who was a famous educator of the early 20th century in America.
FOR CHURCH MINISTERS
Teaching the story of William Tell is an excellent way to instruct your congregants about the proper way to fight for freedom as a Christian which is out of love and not out of revenge. Schiller's version is especially powerful in this respect since he provides a comparison of the pure motives of Tell as opposed to the selfish motives of the Emperor's nephew. Intertwined throughout the story are also many quotes that display the Christian heritage of the heroic characters contained in the play. STAGE THIS PLAY AT YOUR CHURCH AS A WAY TO TEACH PEOPLE MORE ABOUT GOD AND FREEDOM!
FOR ARTISTS
Join the ranks of some of the greatest artists in history like Schiller and Rossini who have used their talents to bring this timeless story of freedom to life. Whether you are a writer, poet, musician, painter, sculpter or some other type of artist you will find that the classic themes and poetic imagery idwelled in this story can provide you with the inspiration for a great work of art that can ultimately be an inspiration to everyone.
YOU CAN BE A HERO TOO!
JOIN THE FIGHT FOR FREDOM TODAY!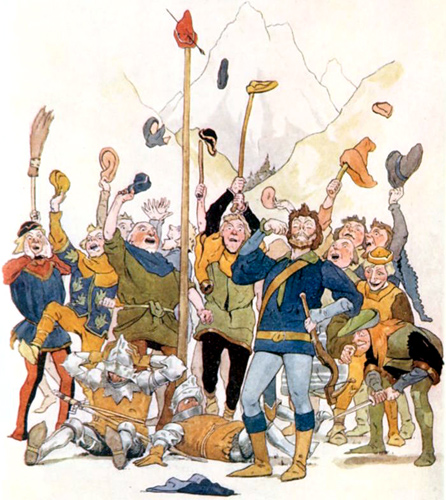 TO MAKE A DONATION TO FINANCIALLY SUPPORT THE WILLIAM TELL PROJECT
CLICK THE DONATE BUTTON BELOW
Financial support is needed to help purchase hard copies of William Tell for distribution so any and all donations are greatly appreciated.
ANTI-FREEDOM FACEBOOK IS NOW CENSORING OUR GROUP WE HAD THERE WITH OVER 20 THOUSAND MEMBERS SO DON'T LET THEM WIN BY DOING EVEN MORE TO SHARE THIS POWERFUL STORY ABOUT FREEDOM WITH MORE PEOPLE!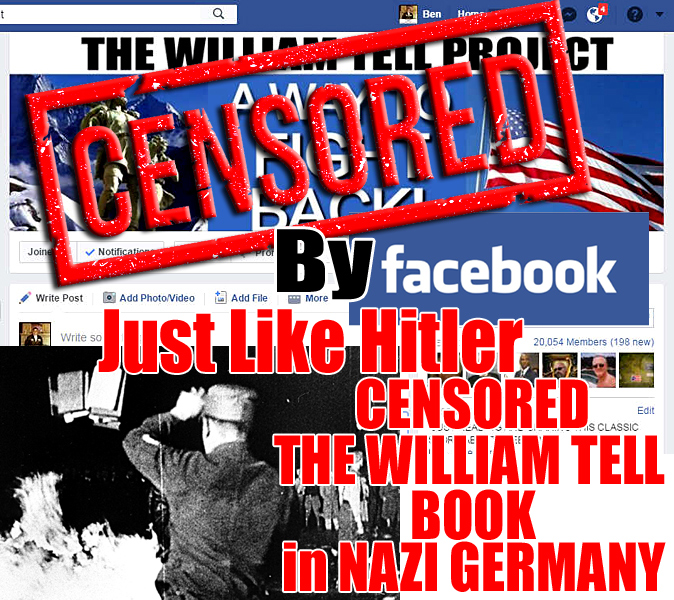 WILLIAM TELL IMAGE MESSAGES
THAT TEACH SOME OF THE MANY GREAT LESSONS
CONTAINED IN THE WILLIAM TELL STORY!
William Tell & Freedom From Tyranny with Death of the Tyrant Gessler:
RIGHT CLICK ON IMAGE TO SAVE OR COPY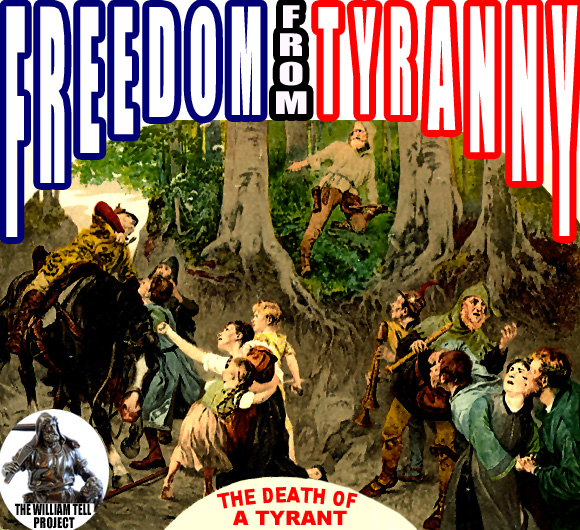 Famous William Tell Scene Shooting Apple From Son's Head with Schiller Quote:
RIGHT CLICK ON IMAGE TO SAVE OR COPY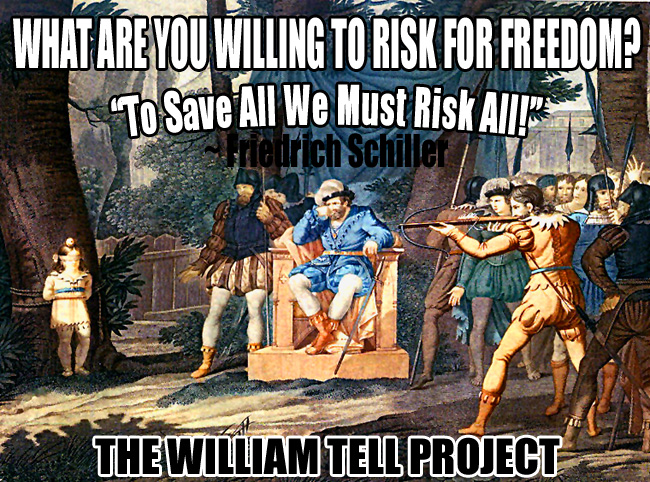 William Tell Shows Proper Way to Live Out the Teaching of Jesus in Matthew 5:38-39:
RIGHT CLICK ON IMAGE TO SAVE OR COPY
William Tell Example of How to Defend Liberty:
RIGHT CLICK ON IMAGE TO SAVE OR COPY
Famous Band of Brothers Scene in William Tell Play by Friedrich Schiller:
RIGHT CLICK ON IMAGE TO SAVE OR COPY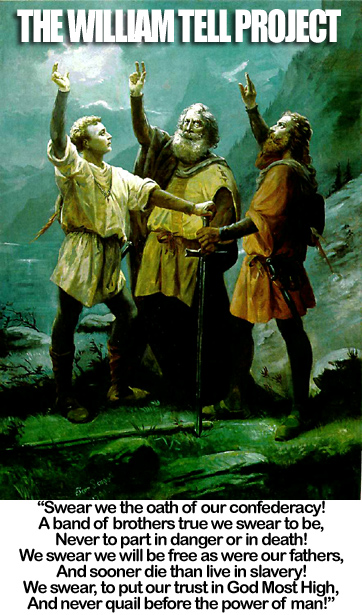 Band of Brothers Scene with Famous Edmund Burke Quote:
RIGHT CLICK ON IMAGE TO SAVE OR COPY
Famous Scene Where William Tell Kills The Tyrant Gessler:
RIGHT CLICK ON IMAGE TO SAVE OR COPY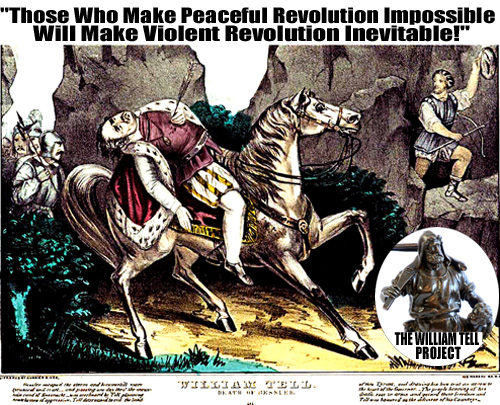 William Tell Shows How True Heroes Always Respond:
RIGHT CLICK ON IMAGE TO SAVE OR COPY
William Tell Play Shows Dramatically Why Gessler Hat Tyrants Are So Bad:
RIGHT CLICK ON IMAGE TO SAVE OR COPY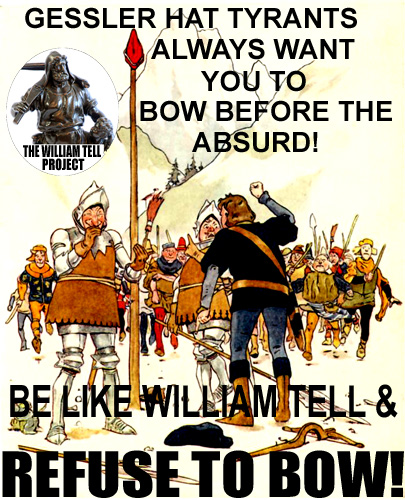 FEATURED FREEDOM QUOTE OF THE DAY
Please Consider Shopping With One of Our Supporters!