☰
2023 Joan of Arc Print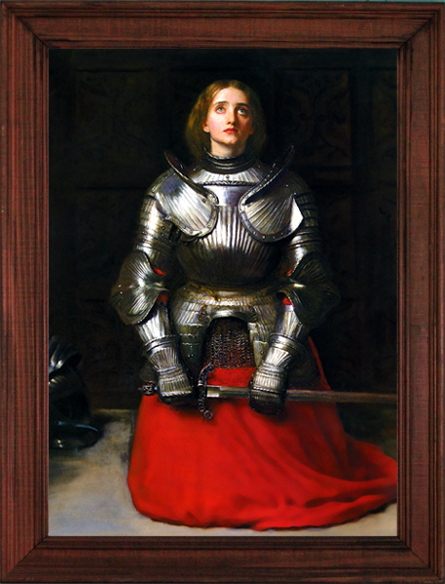 (frame not included)
"Hang this portrait of her on the line in that gallery of living pictures which follows you whithersoever you go, and in which you move and have your being, and the Maid will, in her own good time, deliver her message to you, and you will find life becoming dominated by the high principles and lofty ideals inseparable from the Christian character."
~ Father Bernard Vaughan in Life Lessons From Blessed Joan of Arc
Anyone who joins the Maid of Heaven Foundation by donating $30 or more in 2023 will receive a copy of our beautiful 2023 Joan of Arc Print shown above that is suitable for framing and looks great whether you choose to frame it or not. This year's print is by Jules Eugene Lenepveu and is titled "Jeanne d'Arc at the Siege of Orleans" and shows the famous scene of St. Joan leading the charge at Orleans on May 8th of 1429. The full size of the print on paper is 8.5 x 11 and looks just like the previous year's prints that are shown below on this page:
Prior Year Joan of Arc Print
The Joan of Arc Print looks fantastic when placed in an 8.5 x 11 Diploma Frame as shown below: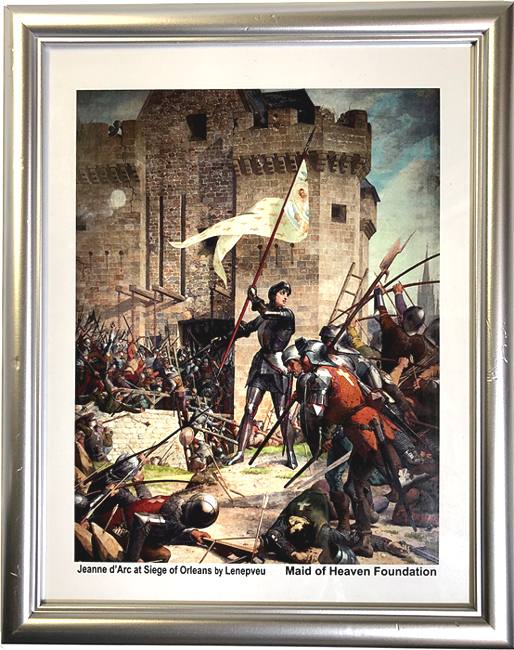 The Joan of Arc Print will also fit in any standard 8x10 frame as shown below by trimming approximately 1/4 inch from each side and 1/2 inch from the top and bottom and can be hung on the wall or placed on a desk or table for daily inspiration. The Maid of Heaven Foundation greatly appreciates your support and hopes that this year's print of St. Joan will be an inspiration to you and everyone who views it to LOVE GOD & LIVE FREE!
Prior Year Joan of Arc Print
Please Consider Shopping With One of Our Supporters!