☰
EASTER SUNRISE SERVICE
Celebrating the Victory of Jesus Christ!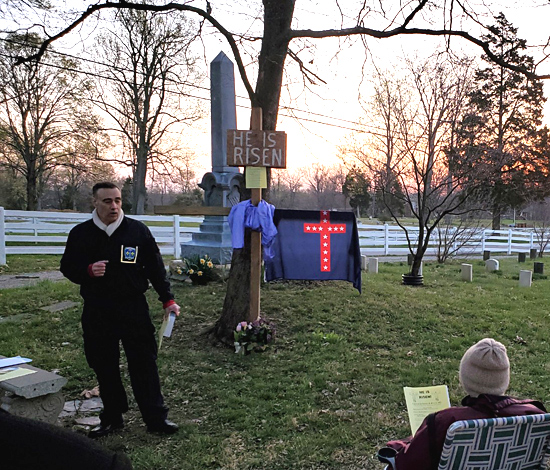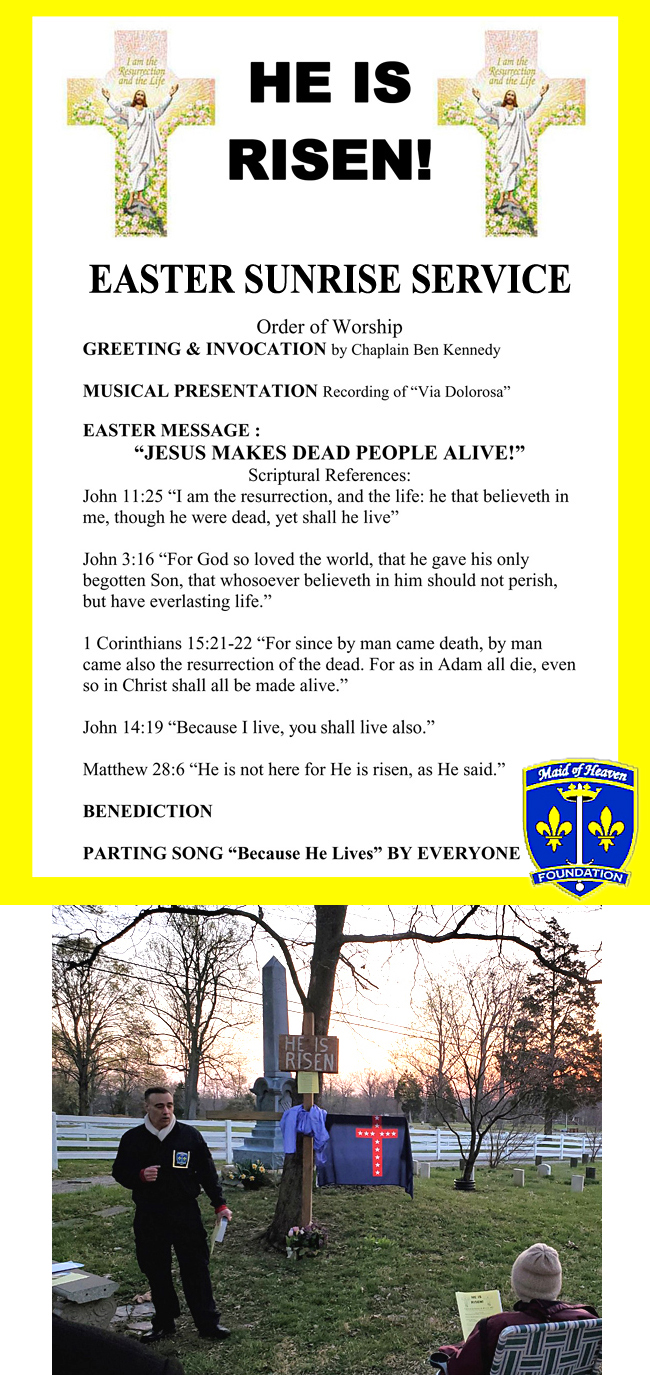 On this glorious glorious morning on which we celebrate the resurrection of Jesus Christ and His spectacular victory over sin and death let us consider exactly what this means to each and every one of us. A cemetery is always the best place to be on Easter morning because it is a stark reminder to us of where we are all going to be one day and how there is no hope for any of us without Jesus. But we have the incredible promise of Jesus to make dead people alive again through Him which is why we celebrate so greatly on Easter morning because HE IS RISEN the conqueror of death!
The Word of God makes it abundantly clear that this was the great purpose for which Jesus came into the world. In John 11:25 Jesus emphatically proclaims that: "I am the resurrection, and the life: he that believeth in me, though he were dead, yet shall he live. And whosoever liveth and believeth in me shall never die!" Jesus said this to His friend Martha a few days after her brother had died while she and her whole family were still suffering great grief from their loss. Jesus then proceeded to raise her brother Lazarus from the dead while telling Martha: "Said I not unto you, that, if you would believe, you would see the glory of God!"
One of the most beloved scriptures in the entire Bible is John 3:16 which states: "For God so loved the world, that He gave His only begotten Son, that whosoever believeth in Him should not perish, but have everlasting life." The reason this scripture is so cherished is because it shows just how much God loves us and wants to save us from death and give us eternal life with Him. Jesus spoke these words to the Jewish religious leader Nicodemus while trying to explain some of the mysteries of the Kingdom of Heaven related to His mission to save everyone. At the same time He assured Nicodemus: "For God did not send His Son into the world to condemn the world, but to save the world through Him." (John 3:17)
In 1 Corinthians 15:1-58 the Apostle Paul discusses in depth why it was necessary for God to come into the world as a man and suffer and die on the cross and be resurrected so that He could give life to everyone: "For since by man came death, by man came also the resurrection of the dead. For as in Adam all die, even so in Christ shall all be made alive." This was how God was able to save mankind from death by sending a "last Adam" as "a life giving spirit" to redeem everyone and defeat the tyranny of death forever which is exactly what was prophesied about Jesus in Isaiah 25:8 that "He will swallow up death in victory." And as Paul rejoices at the end of this scripture that shows so well how the resurrection of Jesus means resurrection from the dead for every Christian: "Thanks be to God, Who gives us the victory though our Lord Jesus Christ!" (1 Corinthians 15:57)
The most important person that Jesus raised from the dead was of course Himself because without His own resurrection there would be no hope for anyone. But Jesus assures us in John 14:19 that: "Because I live, you shall live also." Jesus made this statement to His disciples during His last supper with them while He was reassuring them that although He was leaving this world He was not abandoning them and they would be together with Him again in His Kingdom in Heaven for all eternity. We can all have the same confidence to join Jesus in Heaven just as He promises us in John 14:1: "In my Father's house are many mansions: if it were not so, I would have told you. I go to prepare a place for you. And if I go and prepare a place for you, I will come again, and receive you unto myself; that where I am, there you may be also."
The proof that we have that Jesus has conquered death forever and has the ability to make all of us alive again through Him is the very fact that He is risen. What the Angel of God announced at the empty tomb on that first Easter morning that "He is not here, for He is risen, as He said" has been confirmed over and over again by countless numbers of witnesses to His resurrection. Starting with the two women at the tomb who saw Jesus Himself shortly after the angel had spoken to them to the numerous appearances His disciples recorded in the scriptures to the Apostle Paul who was blinded by Him on the road to Damascus, Jesus has continued to appear to those whom He loves. Everyone who is a Christian ultimately knows that He is risen precisely because as the Apostle Paul said it so well in Galatians 2:20: "It is no longer I who live, but it is Christ who lives in me."
Easter is always such a special time of year for Christians because it allows us a chance to remember and celebrate what Jesus did for every one of us. With the renewal of spring coinciding with Easter it is if all of nature joins us in celebrating His spectacular triumph over death. As the sun rises in the early morning sky it gives us a fresh glimpse of His eternal glory that He achieved through His own "Son Rise." All around us we can see a myriad of flowers in bloom which so beautifully display His promise of renewed life. Even the birds seem to be singing songs of great joy praising His Holy Name. Because He is risen and lives we know that we have life, true life, now and forever more through Him so let us join with all of Heaven and earth in praising our Lord and Savior Jesus Christ this bright Easter morning! And what could be more appropriate to praise Him with than the old Hymn titled: Because He Lives! AMEN! (This Special Devotional Message for Easter is from Glorious Messages About God & Freedom)
"Because He lives, I can face tomorrow,
Because He lives, all fear is gone,
Because I know He holds the future,
And life is worth the living,
Just because He lives!"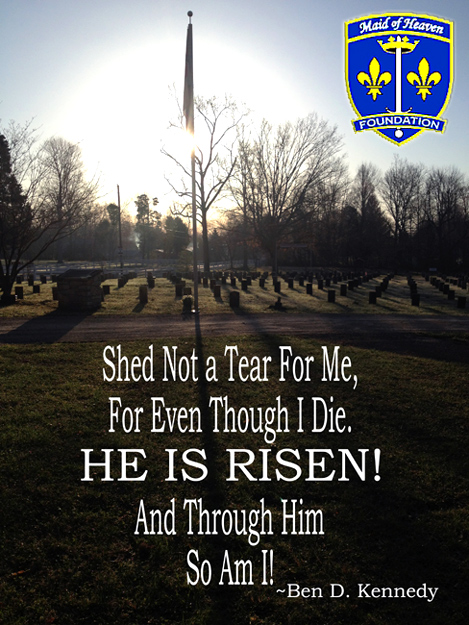 HE IS RISEN INDEED!!!