Saint Joan of Arc Center
Albuquerque, N.M.
Virginia Frohlick - Founder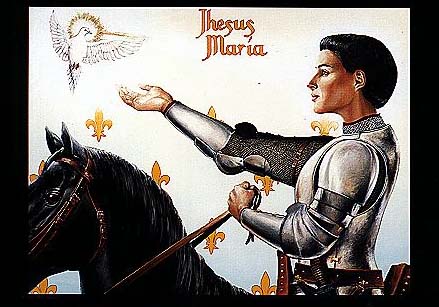 Picture copyright by Saint Joan of Arc Center. All rights reserved. In particular, do not copy, print, or sell copies of this image
---
IN MEMORIAM
Virginia Frohlick
July 11, 1949 - March 14, 2022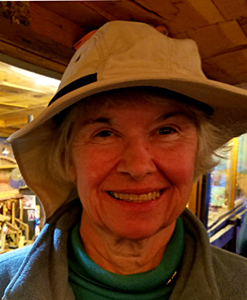 Virginia Frohlick created this wonderful website the St. Joan of Arc Center out of love for her dear friend St. Joan of Arc as she often referred to her. Virginia along with the help of her tech-savy friend Carlyn Iuzzolino started this website in the late 1990's and over the years built it into the vast resource about St. Joan that it has now become. Always cheerful to help anyone who came to her for information about St. Joan her website now serves as a tribute to both her and St. Joan of Arc. Virginia may your soul further brighten our Lord's Kindgom now that you have returned home to be with Him and His beautiful daughter St. Joan in eternal glory!
---

Listen to a NEW Audio Program about Joan of Arc's Life by the Merry Beggars at Relevant Radio HERE!
---
Next Pilgrimage to St Joan of Arc's Country in 2024
Led by Chris and Catherine Snidow
The next French Pilgrimage, the 14th, in 2024, to Joan's Deep France is scheduled for June 14-June 23, 2024. Check their links for information and pictures.
For information about the next St. Joan of Arc pilgrimage in June 2024 including itinerary and costs download Upcoming Joan of Arc Pilgrimage brochure (pdf)
Check their links below for information and pictures.
For some pilgrimage photos, you can go to their Facebook site here https://www.facebook.com/Pilgrimwitnesses/photos_stream
Contact info and pilgrimage testimonials from some people who have gone on this pilgrimage in the past can be found at https://www.facebook.com/Pilgrimwitnesses/info
Also Testimonials from the Snidow's past pilgrimages (pdf)

Chris and Catherine Snidow's St Joan of Arc website

---
A New St. Joan Book
At St. Joan's re-trial there are numerous accounts from her fellow villagers that tell of the many times when St. Joan would take care of them when they were ill.
The most vivid memory that I have of this long ago time, are the rare occasions where I was able just to sit quietly by my patients as I held their hand.
At St. Joan's re-trial there are numerous accounts from her fellow villagers that tell of the many times when St. Joan would take care of them when they were ill.
It is my hope that people who are seriously ill with Cancer or with any other debilitating diseases will find within the pages of Ms. Lynn's book the COURAGE and HOPE to continue their fight to live.
Virginia Frohlick April 2015
---
In Loving Memory of a Dear and Good St. Joan FRIEND and DEVOTEE, Mr. Jerry W. Crouch. May You be with JESUS and Our Dear Good Friend, SAINT JOAN, for all eternity!
---
Purpose of the Saint Joan of Arc Center
The purpose of this center is to spread information about and devotion to Saint Joan of Arc.

Our snail-mail address is:

The Saint Joan of Arc Center
ICO The Maid of Heaven Foundation
PO Box 34664
Louisville, KY 40232
USA
---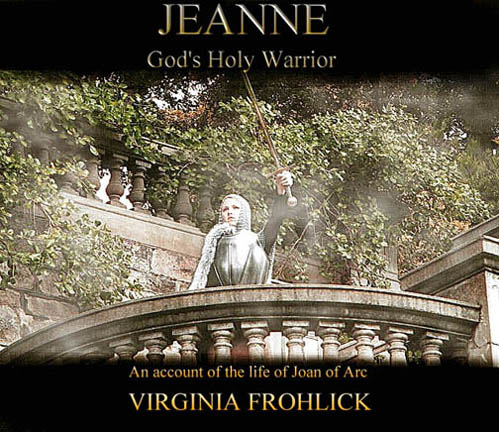 Virginia's Historical novel about St. Joan of Arc
Alyssa Shaw-Hoeppner's Review Of God's Holy Warrior
---
Can't afford to go to Europe? Put off by the high cost and hassles of air travel?" How about enjoying a VIRTUAL tour of St. Joan's France in the comfort of your own home. Take a look at the
---
St. Catherine's Hill

Joan's Description of her Ring at the Trial of Condemnation
Russell Phillips' Fine Gold Thesis-Youtube video Part 1 (6 and a half minutes)
Russell Phillips' Fine Gold Thesis-Youtube video Part 2 (6 and a half minutes)
---
Russell Phillips Essay about St Margharet Of Antioch
---
History
And uther placis' : two French ambassadorial missions in Ayrshire Scroll down and click on the Arrow, Read Paper

St. Joan of Arc's Message for Today - Barbara Beckwith St Anthony Messenger Feature Article May 2008
Trials
Joan-Of-Arc website by Mr. Williamson
This website has a number of very interesting articles.
Misconceptions about Joan by Mr. Williamson
Misconceptions Part V
---
Old Books about Joan of Arc
---

This is a fantastic website with an incredible amount of information. The first page listed is its site map which lists every page on the web site. The other web pages are articles he has that I think are important.
---
---
Catholic Topics
Was St. Joan the First Protestant?
---
Fascinating Topics
---
Controversial Topics
---
Poems
---
Joan Of Arc Videos - Full Movies
---
Giovanna d'Arco Al Rogo-Joan of Arc at the Stake- Ingrid Bergman 1954 In French
---
La Merveilleuse De Vie De Jeanne D'Arc
Joan Of Arc - YouTube TV, Radio and Movie Clips
---
Frequently Asked Questions
---
Book Reviews
---
Film and Play Reviews
---
Music
---
Art Gallery
---
Pictorial Essays
---
My Personal Journey
---
Just For Fun
---
Links to Other Saint Joan of Arc Pages
---
Saint Joan was born on January 6, 1412, in the village of Domremy to Jacques and Isabelle d'Arc. Joan was the youngest of their five children. While growing up among the fields and pastures of her village, she was called Jeannette but when she entered into her mission, her name was changed to Jeanne, la Pucelle, or Joan, the Maid.

As a child she was taught domestic skills as well as her religion by her mother. Joan would later say, "As for spinning and sewing, I fear no woman in Rouen." And again, "It was my mother alone who taught me the 'Our Father' and 'Hail Mary' and the 'Creed;' and from none other was I taught my faith."

From her earliest of years Joan was known for her obedience to her parents, religious fervor, goodness, unselfish generosity and kindness toward her neighbors. Simonin Munier, one of Joan's childhood friends, tells how Joan had nursed him back to health when he was sick. Some of her playmates teased her for being 'too pious.' Others remembered how she would give up her bed to the homeless stranger who came to her father's door asking for shelter.

Joan was 'like all the others' in her village until her thirteenth year. "When I was about thirteen, I received revelation from Our Lord by a voice which told me to be good and attend church often and that God would help me." She stated that her 'Voices' were Saint Michael the Archangel, Saint Catherine and Saint Margaret. At first her 'Voices' came to her two or three times a week but as the time for her mission drew near (five years later), they visited her daily telling her to 'Go into France' to raise the siege of Orleans, conduct the Dauphin Charles to Reims for his crowning and to drive the English from the land.

Joan went to the neighboring town of Vaucouleurs, which means Valley of many colors. There she spoke to the loyal French governor by the name of Sir Robert de Baudricourt. After many rejections he finally agreed to send her to the Dauphin who at the time was living at the castle of Chinon.

On the evening of February 23, 1429, she began her mission for God. In the company of six men, she rode through the Gate of France on her way to Chinon. Joan reached this town on March 6th, but was not received by the Dauphin, Charles, until the evening of March 9th.

After being accepted and approved by a Church council headed by the Archbishop of Reims, Joan was allowed to lead the Dauphin's army. This part of her career was meteoric. She entered Orleans on the evening of April 29th and by May 8th the city had been freed. The Loire campaign started on June 9th and by June 19th the English were driven out of the Loire valley. The march to Reims started on June 29th and by July 17th Charles was crowned King of France in the cathedral of Reims.

From this time on, for reasons know only to King Charles, the king no longer valued Joan's advice and guidance. She had always told him that God had given her 'a year and a little longer' to accomplish His will but the king seemed to take no notice of it. For almost a year he wasted what time remained to Joan, until in frustration, she left the court. Her last campaign lasted from the middle of March until her capture at the town of Compiegne on May 23rd, 1430. Her 'year and a little longer' was over.

Abandoned by her king and friends, she started her year of captivity. As a prisoner of the Burgundians she was treated fairly but that all changed when on November 21st, 1430, she was handed over the English. How she survived their harsh treatment of her is a miracle in itself.

The English not only wanted to kill Joan but they also wanted to discredit King Charles as a false king by having Joan condemned by the Church as a witch and a heretic. To obtain this goal the English used those Church authorities whom they knew to be favorable to them and the staunchest of these was Bishop Cauchon.

Joan's trial of condemnation lasted from February 21st until May 23rd. She was finally burnt at the stake in Rouen's market square on May 30th, 1431.

Twenty-five years later the findings of Joan's first trial were overturned and declared 'null and void' by another Church court, who this time was favorable to King Charles. It was not until 1920 that the Church of Rome officially declared Joan to be a saint. Her feast day is celebrated on May 30th.
---
I was six years old when the Lord planted the seed that would later in my life develope into my devotion to Saint Joan. LIFE Magazine had a cover story about an Irish actress, Siobhan McKenna, who was playing 'Saint Joan' in Bernard Shaw's play of the same name on Broadway.

I remember toddling over to the 'Chinese chest' where my parents placed all their magazines and newspapers and there I saw a woman wearing a helmet. I was intrigued by this and began to leaf through the magazine's pages until I came to a series of photos connected with the play. I could not read at the time and so I concentrated on the pictures. I was amazed and fascinated by one picture in particular, which showed the actress running in armor as she carried a sword high over her head. Day after day, for as long as my parents kept this magazine, I found myself going back to look at and study these pictures. It was as if I were trying to burn an imprint of them into my mind.

Only a few months later was my seventh birthday and I asked my father to buy me a suit of toy armor that I saw in a neighborhood toy store. Because my father had a great interest in the Knights of the Round Table and told me stories about Sir Lancelot and Sir Galahad, he was happy to buy the armor for me. It consisted of a helmet, breastplate, shield and sword. How proud I was to wear my 'armor.'

I was playing with it outside my Bronx apartment building when a man came by and asked, "Are you a boy or a girl?" "I'M A GIRL!" I proudly answered. In reply the man said to me, "Girls don't play like that." I learned that I had to keep this a secret and so from that time on I did not play with my armor outside of my bedroom.

As a child I was frequently sick. When I was well enough I would spent many a day on the couch watching TV. At the time channel 11 of New York City had a program entitled The Million Dollar Movie. During the day this station would play the same movie at least three times in a row. Not only that but the movie was repeated for a full seven days! When I liked a particular movie I would watch EVERY showing of it. I drove my mother crazy and she would say, "Are you watching that again! I would think by now you would know every word by heart. Don't you ever get tired of watching the same old thing?" From all this movie watching three movies stand out in my mind, THE LAST DAYS OF POMPEII, HOLD THAT GHOST, and Otto Premiger's SAINT JOAN.

For the most part my interest in Saint Joan lay dormant in my heart. So when I turned twelve, the time of 'hero worship,' I rediscovered Saint Joan. "WOW! A woman, a knight and a leader of men! She's my kind of girl!" I renewed my friendship with Saint Joan with a passion. I read everything that I could get my hands on, so long as it was about Saint Joan. My mother would say to me, " Are you reading about HER again! Don't you ever get tired of reading the same old thing?" I explained that it was not 'the same old thing' because each author had a different twist or interpretation to her story. Not only that but I never tired in rejoicing at my friend's victories nor in sharing in her passion.

When I first started to develop a friendship with Saint Joan I was very formal and would address her as 'Dear Saint Joan of Arc.' I soon shortened it to 'Dear Saint Joan' until finally it became 'Hey Jo!' or just 'Jo!' I loved to talk to her and tell her everything that was happening to me, the good as well as the bad. She was and is my very best friend, a person in whom I can, without shame, confide everything. I loved to imagine myself (and still do) as her comrade-in-arms riding along side her through thick and thin. I would imagine myself giving King Charles a swift 'boot to the head' for his betrayal of her. As for Bishop Cauchon I would have no difficulty slapping him around. THE BUMS!

In my thirty-four years of studying Joan I have read at least thirty histories, (there is no question in my mind that the very best are written by Regine Pernoud, who died in April of 1998) most of the plays, novels and children's books. All told I have read a total of 80 books about Saint Joan. I have gone to Saint Joan's France in 1984 and 1994. Since 1984 I have been a member of the Association Des Amis Du Centre Jeanne D' Arc established in 1978 (I believe) by Regine Pernoud. The center is located in Orleans, France. So now I can truly say that 'I am a card carrying Saint Joan NUT.'

If you would like to join this Centre in Orleans, France, it will cost you 100 FF or about $30.00 US dollars per year. I recommend that you join because the center is preserving the original documents as well as the movies, books and other documents connected with Saint Joan's memory. You can send your donation to:

CENTRE JEANNE D' ARC
1 Gambetta place,
45000 Orleans
France
---
There are three movies versions of Joan's life that are readily available on VHS tape. (Disclaimer: Just because I (Virginia) didn't like a movie doesn't mean God can't touch someone through that movie. I have received emails from people who very much liked some of these movies.)

The Passion of Joan of Arc - The 1928 French film

This film concentrates solely on Joan's trial and death. The version that I have seen is the one that Dreyer calls 'inferior.' Even so it is very INTENSE, so much so that the viewer is left emotional drained at the films conclusion. I can only imagine how intense the recently found version must be, especially combined with Richard Einhorn's VOICES OF LIGHT. The original version of Dreyer's film combined with Einhorn's music is available for purchase by the general public on VHS tape.

Joan of Arc - 1949 American film

This film follows Joan's life from Domremy to her death in Rouen. It is the most historically correct film on the subject that I have ever seen. Even though it has its short comings, I always enjoyed watching it for its overall beauty and poetry. I just love the battle scene. I first saw the 100 minute long version of this film on TV back in the sixties and it so excited me and filled me with visions of Joan that I could hardly sleep that night! Hopefully in 1998 we will be able to purchase for ourselves this fantastic film in all its glorious 155 minute length. I can hardly wait!

Saint Joan - 1956 American film

This film is based on Bernard Shaw's play by the same name. The film follows Joan's life from Vaucouleurs to her death at Rouen as well as her 'visit' with King Charles. As I explained at the beginning of this essay, it was this film that reawakened in me my love for Saint Joan and every time I had a opportunity to view it, believe me, I did! I enjoyed Joan's interaction with Sir Robert de Baudricourt. I really enjoyed Richard Widmark's portrayal of the Dauphin. I liked the scene in the cathedral between Joan and Dunois. The trial was good and the scene where Joan died was moving. But what I liked about the movie the best was the 'dream' sequences dispersed through out and at the end of the film.

La Pucelle: Les Batailles and Les Prisons - 1994 French Films by Jacques Rivette

These films can be purchased in France. I have just recently seen them, (of course they are in French) and I was VERY DISAPPOINTED. The battle scenes were LAME, ridiculous and unbelievable in their portrayal. As for "Joan," Rivette and the actress who portrayed her stripped the REAL Joan of all her spirituality and in so doing they cut the real Joan's heart out. The woman they portrayed WAS NOT JOAN but some woman going through the motions. At the end of the movie when 'Joan' was dying Rivette was so afraid of 'OFFENDING' anyone that he showed a plain cross amidst the flames instead of what really was held up before her, A CRUCIFIX. I can now see why this film was not given a bigger showing here than it was - it would have BOMBED - big time!!!!!!!!!!!!!!!!!! Can you tell that I really did not like these two films?

Giovanna D' Arco - 1989 Italian Film of the Opera by Giuseppe Verdi.

This VHS tape was a waste of my time and money! Everything about the production was LAME, the costuming, the sets, the actors and the singer that played 'Joan.'

Joan of Paris - 1942 American film

This film is about a barmaid named Joan who helps some British and a Free French flyers escape Nazi controlled France. How Saint Joan is incorporated into the film is the fact that she is the barmaid's patron saint and gives the barmaid the courage to face the Nazis. I would have liked it better if the director had explored this aspect of the story more but he did not.

The Miracle of the Bells - 1948 American film

This film is about a small town girl making it good in Hollywood by replacing the famous actress who walks out of the production of Joan of Arc. She auditions for the lead by recreating Joan's trial scene in her living room before the studio's publicity man. That part of the film was moving and I enjoyed watching it. She gets the part but dies of 'black lung' the day after the film is completed.

The Phantom of the Opera - English 1962

In this version of the story the man who became 'the Phantom' was a composer. He wrote an opera about Saint Joan. It was stolen from him and so when the thief tried to produce the opera 'the Phantom' did his best to disrupt the production. I liked all the operatic scenes except for the trial where Bishop Cauchon was singing, that I felt it was too ponderous. Yet Joan's reply and her going to the fire was very moving.

Bill and Ted's Excellent Adventure - American, 1988

Bill and Ted kidnap 'Joan' from 1429 Orleans and bring her into the future. The film shows Joan helping the 'boys' by doing some house work with the other historical figures that they had rounded up. Bill and Ted take Joan and all the other historical people to the San Dimas Mall. Here Joan disrupts an aerobics class by pushing aside the teacher and taking over the work out. I loved it! My only wish was that Joan had been given more air time. The article that I read about the movie explained that they had Joan playing with Billy the Kid's wolf and singing with the San Dimas High School band but these scenes were cut because of time constraints.

I Pledge Allegiance To The Lamb - Ray Boltz's music video - American 1995.

This is a Protestant music video. Near the beginning of this song Mr. Boltz shows 'Joan' being brought before the English King. When Joan refuses to give into his demands, she is dragged away to be burnt at the stake. I am glad that he was tactful enough to have the 'bad guy' portrayed as a king and not as a bishop. This is a very moving video, well worth the viewing.

Wishbone's Bone of Arc - American 1995?

Wishbone is a children's series made for PBS. In this series a book reading dog by the name of Wishbone takes us into the book's story. In Bone of Arc Wishbone takes us into Mark Twain's Joan of Arc. The dog portrays Joan's good friend 'Louis.' The video shows Joan under the 'Fairies Tree,' finding the Dauphin amongst his courtiers, the victory at Orleans and her imprisonment at Rouen. I enjoyed watching.
---
This Saint Joan of Arc Center Website is being hosted by the:




VISIT US TODAY BY CLICKING THE BANNER ABOVE!



This

"picture (170K)" is a stereogram of our brave Saint Joan with her pennant. To see a stereogram on your monitor, focus on your own image that is reflected on the glass. Then, without changing your focus, shift your vision to the picture itself.
---