Hugh Kennedy of Ardstinchar
by Jean Brittain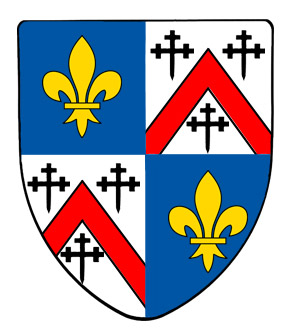 Hugh was the third son of Sir Gilbert Kennedy of Dunure and Agnes Maxwell in the Carrick Region of Scotland. He was educated by the Dominican Blackfriars in Ayr and went on to be ordained as a priest there, but later abandoned the monastery and went to France as a mercenary soldier with the Earl of Buchan.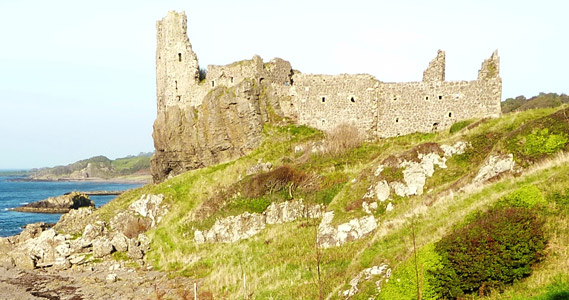 He's noted at the Battle of Baugé in 1421 with about a hundred Scots in his retinue, then with Dunois and La Hire at the Siege of Montargis in 1427. In October 1428 he forced his way into Orléans with food for the citizens, and survived the Battle of the Herrings in 1429 at which the Constable of Scotland was killed. His first meeting with Joan Of Arc would likely have been when she took a large convoy of provisions into Orléans, protected by Scots troops under the command of Sir Patrick Ogilvy. Legend has it that these Scots played the tune 'Hey Tutti Taiti', the same that had been played at King Robert the Bruce's fight at Bannockburn in 1314.




One of Joan's voices was a saint who may have been especially close to Hugh's own heart in his youth, as the Blackfriars church in Ayr was dedicated to St. Katherine the Virgin.

Hugh is named at the Council of War and was prominent at the storming of the Tourelles, was present at the Battle of Patay and accompanied the Dauphin on his journey to Rheims to be crowned King Charles VII. The next month, Hugh commanded at least 800 men who took Lagny-sur-Marne and garrisoned this stronghold for several years. This is where Joan went in the spring of 1430 when King Charles let her down. With a party of 400 from Lagny in which Kennedy is named, Joan fought a gang of Anglo-Burgundians and captured their leader Franquet d'Arras. Franquet was executed in Senlis, and the incident was used in evidence against Joan at her trial.

Another event at Lagny was deemed by many to be a miracle. Joan was begged to help a newborn baby which had seemed dead for several days. As she prayed with the family, the infant awoke, yawned, received baptism and died, and was buried in the Christian earth denied to the un-baptised. Hugh would certainly have known about this, and perhaps even witnessed it. It was from Lagny that Joan went to Compiegne where she was taken prisoner.

Many authors have commented on the loyalty shown to Joan of Arc by the Scots mercenaries in France. J.A. Rennie singled out Hugh by name: "Commanded by Sir Hugh Kennedy, these Scots were with Joan in her last victory at Lagny. On the only occasion she saw her own portrait it was held in the hands of a Scot at Arras; while Sir Hugh Kennedy stood by her to the end. Alone of all the people with whom she was concerned, these bearers of ancient and honourable clan names can be absolved of any accusation of having deserted, sold, condemned or otherwise betrayed La Pucelle d'Orléans."

Hugh held Lagny against the Duke of Bedford in the siege of 1432. In 1434 he was Squire of the Stables for King Charles, and was sent home to Scotland as French Ambassador to bring Princess Margaret to France for marriage to the Dauphin Louis. During this embassy, with the backing of two kings, he petitioned the pope to return to Holy Orders. King James gave him the provostship of the Chapel Royal in St Andrews where their joint nephew, James Kennedy, was later the famous Bishop of St. Andrews. Hugh rose to become Treasurer of Glasgow, Archdeacon of St Andrews, and counsellor to the kings of Scotland and France.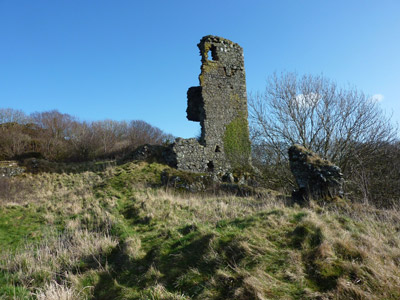 (View a virtual reconstruction of Hugh Kennedy's castle HERE)
Jean Brittain was brought up in Ballantrae next to the ruins of Ardstinchar, the castle said to be built by Joan of Arc's Scottish Captain, Hugh Kennedy. Previously a college lecturer and bookshop manager, she is now a features writer for magazines. Her research on Hugh Kennedy has been well-received by historical societies and a biography of his fascinating life is now available.
Add Joan of Arc as Your Friend on Facebook at http://www.facebook.com/saintjoanofarc1
Please Consider Shopping With One of Our Supporters!