What Others Are Saying About MAID OF HEAVEN:
The Story of Saint Joan of Arc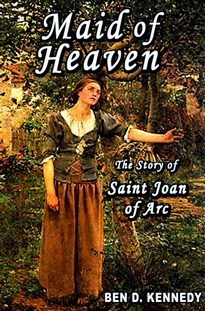 "Expertly Composed and Highly Recommended"
&nbsp &nbsp &nbsp &nbsp &nbsp Midwest Book Review
"I've read many books about France's Patron Saint, Joan of Arc, but never seen one like Maid of Heaven. . .Mr. Kennedy does an amazing job of putting such a lyrical story [Joan of Arc] into capitivating lyrical form."
&nbsp &nbsp &nbsp &nbsp &nbsp Chris Snidow - Author, musician and leader of five Joan of Arc pilgrimages in France.
"An epic flash back that watered my eyes. . .I did not expect this breathtaking story."
&nbsp &nbsp &nbsp &nbsp &nbsp Sergio Vargas - San Cristobal Antiques Fine Art
Review by Virginia Lindsley Frohlick
Founder of The Saint Joan of Arc Center
Upon receiving this book, so kindly given to me by the author, I quickly devoured it in one sitting.
I was impressed by his clever English prose that was able to combine actual historical fact and the words spoken by Joan of Arc herself.
The poet created this fine work, his labor of love; to honor the name and memory of God's warrior angel who came to save her people from England's crushing hand.
What amazes me, after some 50 years of devotion to our mutual friend Saint Joan, is that we, all of us who honor and love her, continue to speak about this servant of God!
This audacious soul, who some 595 years ago said "YES" to God's plan for her life and in so doing saved her people but more importantly for us her CHILDREN, she has inspired countless men and women to seek God's will for their own life as well.
I cannot think of a better way to end this review than to quote Mr. Kennedy's last stanza of his epic poem:
Thank you, dear maid, for teaching me
God's truths that can often be so difficult to see.
You showed through your life how to serve
Him best, in a World so full of treachery.
For all of this and all that you still are,
I will love you forever and for all eternity.
Review by Midwest Book Review
Everyone knows of the general legend of Joan of Arc - a young and illiterate girl hears voices from God and leads France against the invading English. "Maid of Heaven: The Story of Saint Joan of Arc", however, tells the complete and thorough story of a sixteen year old girl who rose up to stand against insurmountable odds. Nonfiction, but written and reads like fiction, "Maid of Heaven: The Story of Saint Joan of Arc" is expertly composed and highly recommended to world history shelves and for anyone who wants a complete understanding of this enigmatic teenage girl who was anything but.
Review by Jennifer Corry posted at Amazon.com
When the smashing Leelee Sobieski film about Joan of Arc came out in 1998, I immediately began searching the hundreds of books about Joan to find the best one portraying her story. Not until this year, with this little book have I succeeded.
Joan was an extraordinary woman who heard the voices of God and His servants singing in her heart from the time she was a devout child. By the time she was a young woman, the Holy voices had strengthened, beckoning her to a deadly, glorious mission she never imagined. She responded to the heart song God gave her and began her journey, turning her life into a living psalm written for His Glory. This book, in turn, is like a song dedicated to her and God; rich with information and melodious in word, this new piece of literature is written in poem form. All the major events of Joan's life, including the locations she visited, the various battles she fought, and the reactions of those around her are recorded here in beautiful lilting print, sometimes rhyming and sometimes not. The educational aspect of the book is as fluid as the poetic one; as you find yourself following Joan's story and rolling the poetry off your tongue, you may not even notice at first how easily all the vital facts about Joan's life are absorbed into memory. With this book, author Ben Kennedy has given us both an essential learning tool (one shorter and far more fun to read than many a textbook) and a moving dedication to God and one of His greatest servants, a woman who reflected her Lord as both a lionheart warrior and a lamb to sacrifice. I highly recommend this book to all!
Other Reviews at AMAZON.COM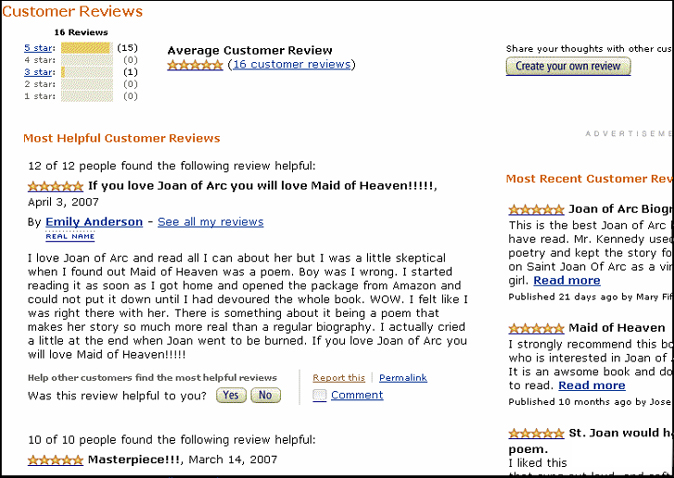 Letter from Pope Benedict XVI at the Vatican: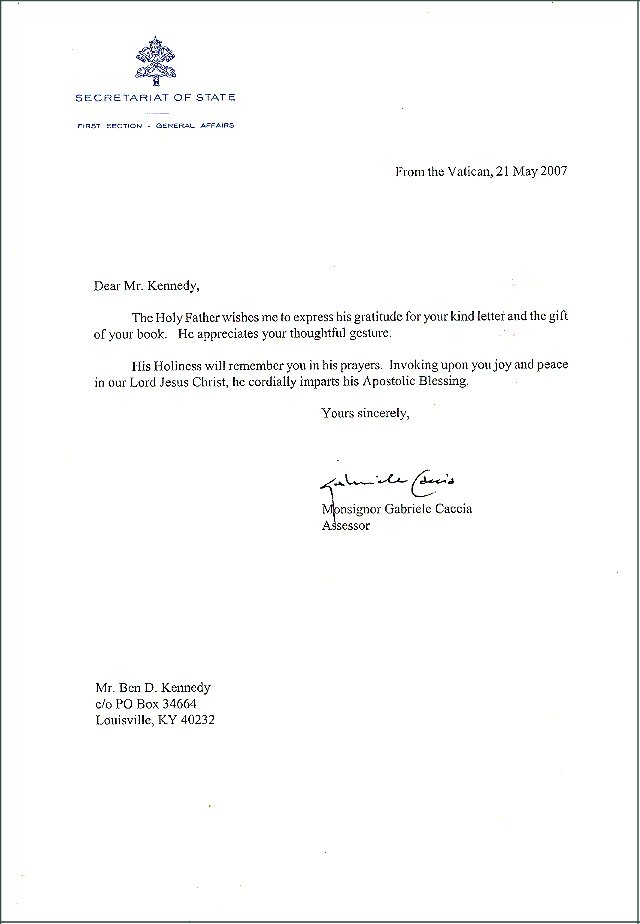 MaidOfHeaven.com
Greetings.

I just wanted to take a moment to thank you for still keeping up and maintaining the Maid of Heaven website. It really is a magnificent piece of work, and utterly important as a true source of real knowledge about Saint Jehanne and who she really was. In a world and a time such as this that we are living in now, where all kinds of different, reduced flowings and goings attempt to present highly twisted and wronged versions about Jehanne, it is heart-lifting to know that even amidst all that mess there are still also bright beacons to stand up for the real Jeannette - such as your site.

I have been in love with her for a long time, and in a way have shared my life and grown up myself with her and in her footsteps ever since I was a kid. Last year (I'm 25 now, born in 1988) I was graced by being able to participate on a pilgrimage to France, during which we traced Jeannette's footsteps at key places such as Rouen, Orléans and of course Domrémy-la-Pucelle. During the pilgrimage I received my own calling from God to become a priest, and I am about to begin my theology studies for that quite soon. Hence Jehanne is highly dear and important to me from this perspective too. It really lifts my spirit when coming across someone who brilliantly works towards keeping her name, character and legacy as full, vivid and truthful as they ought to be.

So a huge thank you on behalf of our loved Jeannette. I am most confident she is smiling heartily from her current celestial residence at you and everything you've done for her. I have been visiting the Maid of Heaven website for quite long already, and I intend to keep on doing so, as well as spreading knowledge about it to other people while encouraging them to visit it too.

Oh, and my applaud to you for your work on the "Maid of Heaven" poem also. I ordered the book a year ago or so, and it has been a continuing reading experience for me ever since. And a wonderful one at that.

May the peace of Christ fill your heart and your life.

With deep reverence,
Andreas Salminen

(from Finland :)

"Our Lord first served."

Jhesus+Maria
Add Joan of Arc as Your Friend on Facebook at http://www.facebook.com/saintjoanofarc1
Please Consider Shopping With One of Our Supporters!