HENRY VI Part 1
By William Shakespeare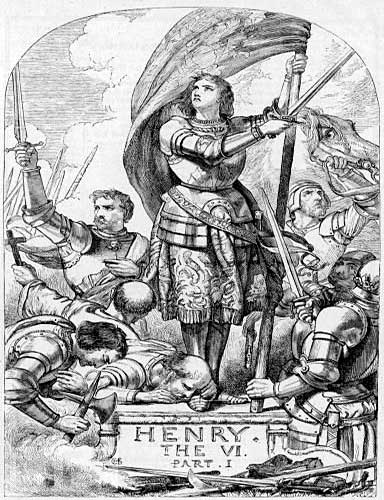 Shakespeare's Henry VI Part 1 is one of the earliest plays attributed to him and was thought to have been written around 1590. There has always been controversy over whether or not Shakespeare actually wrote all or any of the play. Henry VI Part 1 has been harshly criticized over the years for the inaccurate portrayal of Joan of Arc as a witch and a whore. Shakespeare undoubtedly used the prevailing English propaganda of his day however his inability to more accurately depict Saint Joan has been troubling to scholars past and present. Read Review of Shakespeare's Henry VI Part 1 by Andrew Lang
Synopsis:
The play opens at the funeral of Henry V. Young Henry VI is elevated to the King of England and Gloucester accuses the Church of trying to control young Henry. A messenger arrives with word of rebellion in France led by Charles VII, the Dauphin of France, who has been crowned King. More messengers arrive with further bad news including that Talbot has been captured. The English nobles vow to fight to regain France for the new King. The scene shifts to Orleans in France where Charles loses a battle to Salisbury. Charles then meets Joan of Arc (Joan La Pucelle) who is seemingly sent from God. After they engage in physical combat and Joan wins, Charles is extremely impressed and desires to marry her. Joan explains her calling forbids her from love at present so Charles agrees to allow her to help them fight. Back in London at the tower of London Gloucester fights with Winchester over his not being allowed to see Henry VI. Returning to Orleans, Talbot has been freed by payment of a ransom and greets Salisbury. As they survey the French forces Salisbury is hit by a cannonball and mortally wounded. Talbot vows revenge. Talbot engages in battle with Joan of Arc and loses but is not killed. Joan then proceeds to capture Orleans and Charles is so overjoyed that he marries her and proclaims her a Saint.

Act II.
Again at Orleans the English make a surprise attack at night and force Charles and Joan to flee. The English re-capture Orleans and Talbot goes to visit the Countess of Auvergne who tries to imprison him. Talbot calls to his men to come and rescue him and the Countess is so impressed she gives them all a feast. Back in London a dangerous rift starts between Somerset and Richard Plantagenet after Somerset degrades Plantagenet about his father having been executed by Henry V for treason. This sows the seeds for the future War of the Roses. At the tower of London Plantagenet visits his uncle Edmund Mortimer who explains his imprisonment by Henry IV because of his threat to his title. Plantagenet becomes convinced that the Throne of England should have gone to his father.

Act III.
At parliament, Gloucester and Winchester resolve their dispute and Richard Plantagenet is named the Third Duke of York by young King Henry VI. Henry VI then departs for france to be crowned King of France leaving his great Uncle Exeter to repeat the prophesy that Henry V would win all and Henry VI would lose all. In France, Joan of Arc continues to fight the English with Charles and drives them from Rouen. The English under Talbot counterattack and retake Rouen. Talbot marches to Paris for the coronation of Henry VI but Joan convinces the Duke of Burgundy to switch sides and fight with the French. In Paris, Talbot meets with Henry VI who rewards him by naming him the Earl of Shrewsbury.

Act IV.
In Paris at the palace, Talbot learns of Burgundy's revolt and prepares to meet him as an enemy. King Henry VI tries to make peace between Somerset and Richard Plantagenet and sends them to reinforce Talbot in battle. They continue their quarrel which results in Talbot not receiving needed support. At Bordeaux Talbot's son joins him and they both perish in battle due to not receiving reinforcements.

Act V.
Returning to London, Henry VI is pressured to make peace with France and marry Margaret, the daughter of the Earl of Armagnac. In France Richard Plantagenet, the Duke of York, fights with Joan of Arc at Angiers and captures her. At the same time the Earl of Suffolk captures Margaret of Anjou and begins to scheme for her to marry Henry VI while planning to seduce her himself. Joan of Arc, condemned to burn, denies her own father and claims she is pregnant though still a virgin. The Duke of York does not believe her and has her burned to death. York is informed of the peace settlement and is not happy about making peace with France. In London, King Henry VI agrees to marry Margaret of Anjou falling into the Earl of Suffolk's trap to control him through Margaret.
Table of Contents
DRAMATIS PERSONAE


KING HENRY THE SIXTH
DUKE OF GLOUCESTER, uncle to the King, and Protector
DUKE OF BEDFORD, uncle to the King, and Regent of France
THOMAS BEAUFORT, DUKE OF EXETER, great-uncle to the king
HENRY BEAUFORT, great-uncle to the King, BISHOP OF WINCHESTER, and afterwards CARDINAL
JOHN BEAUFORT, EARL OF SOMERSET, afterwards Duke
RICHARD PLANTAGENET, son of Richard late Earl of Cambridge,
afterwards DUKE OF YORK
EARL OF WARWICK
EARL OF SALISBURY
EARL OF SUFFOLK
LORD TALBOT, afterwards EARL OF SHREWSBURY
JOHN TALBOT, his son
EDMUND MORTIMER, EARL OF MARCH
SIR JOHN FASTOLFE
SIR WILLIAM LUCY
SIR WILLIAM GLANSDALE
SIR THOMAS GARGRAVE
MAYOR of LONDON
WOODVILLE, Lieutenant of the Tower
VERNON, of the White Rose or York faction
BASSET, of the Red Rose or Lancaster faction
A LAWYER
GAOLERS, to Mortimer
CHARLES, Dauphin, and afterwards King of France
REIGNIER, DUKE OF ANJOU, and titular King of Naples
DUKE OF BURGUNDY
DUKE OF ALENCON
BASTARD OF ORLEANS
GOVERNOR OF PARIS
MASTER-GUNNER OF ORLEANS, and his SON
GENERAL OF THE FRENCH FORCES in Bordeaux
A FRENCH SERGEANT
A PORTER
AN OLD SHEPHERD, father to Joan la Pucelle
MARGARET, daughter to Reignier, afterwards married to King Henry
COUNTESS OF AUVERGNE
JOAN LA PUCELLE, Commonly called JOAN OF ARC
Lords, Warders of the Tower, Heralds, Officers, Soldiers, Messengers, English and French Attendants.
Fiends appearing to La Pucelle

SCENE: Partly in England and partly in France.

GO TO SHAKESPEARE'S HENRY VI
Add Joan of Arc as Your Friend on Facebook at http://www.facebook.com/saintjoanofarc1
Please Consider Shopping With One of Our Supporters!