A Tribute to Saint Joan of Arc for Her Birthday
by Ben D. Kennedy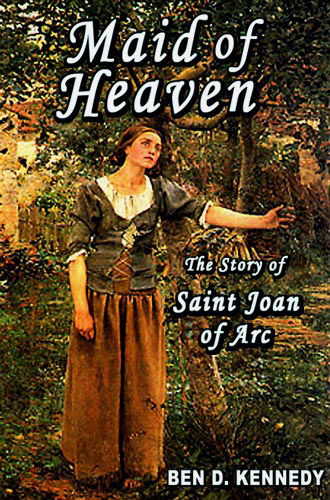 "Most beautiful Maid of Heaven, how brilliant is your light.
Like a shining star you point the way to the Father of all light."
From a personal standpoint the greatest thing I can ever say about Saint Joan of Arc is that she leads me closer to God. In 2012 to celebrate the 600th anniversary of her birthday I posted a paper I wrote titled Saint Joan of Arc: A Brilliantly Shining Light of God which explains why I believe that leading people to God was and is Joanís greatest mission. It is ultimately this that makes her so beautiful to me which is the beauty of a soul in Christ helping me to better know the great beauty of our Lord and His Kingdom as David expressed so well in Psalm 27:
"One thing I have desired of the Lord,
That will I seek:
That I may dwell in the house of the Lord
All the days of my life,
To behold the beauty of the Lord"
What has been so frustrating to me is how difficult it seems to be to share with others about Joanís true nature and beauty. Last year after six years of almost continuous effort I came to a certain realization and added the quote below to the page of famous quotes testifying to Joanís greatness located at MaidOfHeaven.com.
"I spent six years attempting to give people a proper understanding of the
incredible beauty of St. Joan of Arc as I have been blessed by God to have
been able to see in what at most has been a brief glimpse. I now realize
it is an impossible task due to the severe limits of human expression. "
When I wrote these words I realized that this was perhaps the greatest tribute that anyone could ever give to Joan to say that her beauty is simple beyond the ability of human expression to completely describe. So happy birthday to you Jehanne and may you continue to be a brilliantly shining light of God ever leading people closer to our great God Who created you.
"Your daughter is but a breath of You but oh what a breath Divine!
So precious a jewel of Heavenís delight given by Your love sublime.
So sweet and kind and full of Your love she holds my heart secure,
And leads me home to Your Heavenly throne with all Your rapturous allure!"
† Jesus Maria
Add Joan of Arc as Your Friend on Facebook at http://www.facebook.com/saintjoanofarc1
Please Consider Shopping With One of Our Supporters!