Vaucouleurs - Where Joan's Mission Began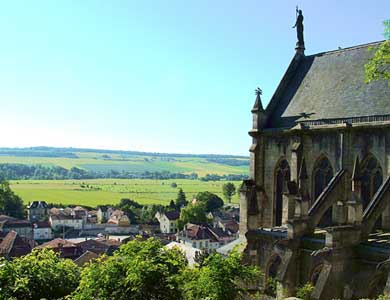 "God has great pity for the people of France…Go to Vaucouleurs and thou wilt find there a captain who will conduct thee safely to France, and to the King. Be without fear."
Joan of Arc testifying at her trial in Rouen about what she was told by her Voice


When Joan of Arc began her mission she went to the nearby town of Vaucouleurs to ask the local military captain Robert de Baudricourt for an escort to take her to Chinon to see Charles VII. When Joan first met de Baudricourt she told him:
"I have come to you on the part of my Lord, in order that you may send word to the Dauphin, to hold fast, and to not cease war against his enemies. Before mid-Lent the Lord will give him help. In truth, the kingdom belongs not to the Dauphin, but to my Lord. But my Lord wills that the Dauphin be made King, and have the kingdom in command. Notwithstanding his enemies, the Dauphin will be made King, and it is I who will conduct him to the coronation."
Robert de Baudricourt intially refused Joan's request for help instead telling her uncle Durand Laxart to take her back to her father and "box her ears." Joan's uncle Durand later recounted the visit to de Baudricout and Joan's time in Vaucouleurs:
"When the Maid saw that Sir Robert did not want to send her to the place where the Dauphin was, she herself handed me my cloak and told me that she wished to depart. And withdrawing, I took her to Saint Nicholas, and when she was there she went with a safe-conduct to the lord Charles, Duke of Lorraine, and when the lord Charles saw her, he spoke with her and gave her four francs, which she showed me. Then Joan went back to Vaucouleurs, and the people of the town bought her men's clothing, breeches, gaiters, and all that she needed; and Jacques Alain of Vaucouleurs and I bought her a horse for the price of twelve francs, out of our own pockets. However, my lord Robert de Baudricourt had the money paid back to us afterward. And after that jean de Metz, Bertrand de Poulengy, Colet de Vienne, and Richard Larcher, with two servants of Jean de Metz and Bertrand, took Joan to the place where the Dauphin was."
Joan had to make three visits to de Baudricourt as she later described at her trial: "Robert twice refused and repulsed me, and the third time he received me and gave me men. My Voice told me it would so happen." On Joan's third visit de Baudricourt finally relented and gave Joan an escort to take her to Charles VII in Chinon. What finally caused de Baudricourt to relent has been a subject for debate by historians however a clue may be found in the"Journal of the Siege of Orleans" which relates that Joan successfully predicted to de Baudricourt the disastrous defeat of the French forces at the battle at Rouvray (Battle of the Herrings) on February 12, 1429. Whether this was the reason or not de Baudricourt never seemed to fully believe in Joan as evidenced by his famous last words to her as she rode out of Vaucouleurs on the evening of February 23, 1429: "Go, and let come what may!"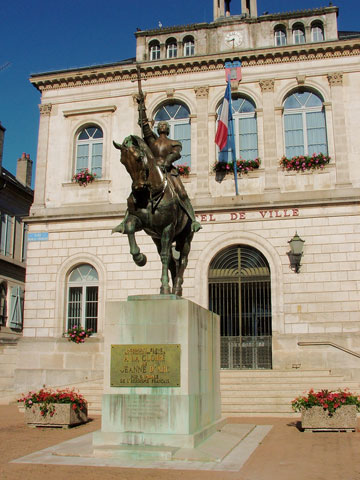 Statue today of Joan of Arc in Vaucouleurs
Plaque on the front reads:
"To the glory of Joan of Arc, a
pure symbol of French heroism"