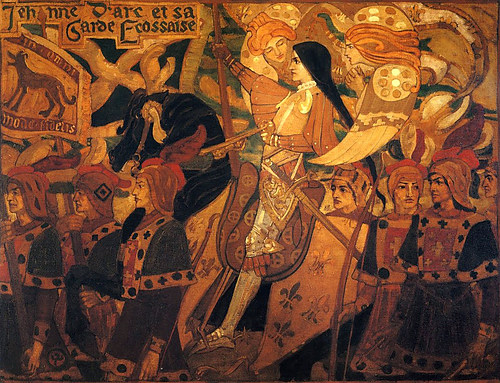 Inspired by John Duncan's painting of Joan of Arc riding with the Scots Guards, DAVID KERR marks the 100th anniversary of Joan of Arc's beatification ahead of the saint's feast day this month. Here he explores her extraordinary life, her martyrdom and the role Scotland played in her epic battles against England.

EVER seen this painting before? The chances are that you haven't. Why? Well, it previously hung in the office of Edinburgh's Lord Provost and currently resides in a dark basement beneath the City's Arts Centre next to Waverley Station. So take this rare opportunity to have a good look at it. No hurry. Done that? Okay, let's now explore the little known slice of Scottish history it so vibrantly attempts to encapsulate - St Joan and her Scottish soldiers. Let's start, though, with the painting itself.

Jehanne d'Arc et sa Garde Ecossaise
John Duncan was a man very much not of his times. One of the foremost painters of the Celtic Revival movement of the late Victorian and early Edwardian era, he was summed up by one of his best friends as "a man apart, living in a world of imagination". A native of Dundee, he spent much his working life based in Edinburgh. And it was there in 1896 that he created his painting of St Joan. The idea for the work, though, came the year previous from the poet and novelist Andrew Lang.

Lang was clearly a great admirer of Joan of Arc. In his later life he would pen a biography of her life. At the time he made his artistic suggestion to John Duncan, though, he had just finished creating a chronicle of a fictional 15th century Scottish monk who, as a young man, "was with the Maid both in her victories and recoveries of towns, and even till her death." The adventures of Norman Leslie of Pitcullo, a St Andrews undergraduate who has to flee Scotland after unintentionally killing a fellow student with a golf club, are imaginary. The historical facts which buttress the story, however, are not.

Who was St Joan of Arc?
In the first volume of his A History of the English-Speaking People, Sir Winston Churchill states that "Joan was a being so uplifted from the ordinary run of mankind that she finds no equal in a thousand years." Churchill concludes that the story of St Joan would be beyond credulity if it weren't so well documented and, what's more, true.

A peasant girl from an obscure village in eastern France, Joan was born in 1412 and grew up in a country which had been afflicted by war for several generations. The source of that conflict? The French crown. It had fallen vacant in 1328. Now it was being fought over by two rival families from either side of the English Channel; the aspirant French royal house of Valois and the English royal house of Plantagenet. Historians would later dub their century - and more - of dynastic struggle as The Hundred Years War.

In the summer of 1425, aged just thirteen, Joan's young life would change forever and, with it, the history of France. "Voices", to use her own term, began to reveal to her a remarkable divine calling; to militarily lead her country from the verge of defeat to victory over the English. "I am a poor girl; I do not know to ride or fight" protested Joan after being subjected to an initial burst of self doubt and official scepticism. "It is God who commands it" reiterated the voices. And so, in late 1428, she left her home village to seek an audience with the Valois dauphin - heir to the throne - who would be king.

Charles VII, however, remained to be convinced. To test Joan upon their first encounter, he disguised himself, but she at once fell on her knees before him without hesitation amidst a group of courtiers, "Very illustrious Lord Dauphin, I am come, being sent on the part of God, to give succour to the kingdom and to you......Gentle Dauphin, I am called Joan, the Maid."

Still the Dauphin's courtiers urged scepticism. It took a secret sign, communicated to Joan by her voices and which she now made known to Charles, for the Dauphin to believe in her mission. Joan never revealed what that secret sign was but it's believed by many to have been the settling of a doubt which Charles had over the legitimacy of his birth. Soon the Dauphin officially gave Joan command of the armies of France. She was only 17.

And her first task? To relieve the strategically crucial but besieged city of Orléans, 80 miles south west of Paris. If Orléans were to fall, France would fall also. In a letter to an associate in Brussels, Joan boldly predicted that she "would save Orléans and would compel the English to raise the siege, that she herself in a battle before Orléans would be wounded by a shaft but would not die of it, and that the King, in the course of the coming summer, would be crowned at Reims." All this was soon to come to pass, with the Scots playing a key part along the way.

The Scots arrive in France
"Consumers of mutton and wine." That was the fairly dismissive description which met the Scottish soldiers who arrived in France in the autumn 1419. This was a dark time for the French with the disastrous defeat at Agincourt in 1415 still casting a long, cold shadow over the land. The English King, Henry V, was in the ascendency. He'd even brokered a treaty securing the French royal succession for his son. In seeming desperation, the Dauphin Charles appealed to Scotland for help. It was a decision he was soon to be very grateful for making.

The Scottish army's first great test came on Easter Sunday 1421 at the Loire town of Baugé. The English were led by Henry V's brother, Thomas Duke of Clarence. The Scots, about 6000 strong, were led by John Stewart, the Earl of Buchan. The English broke the Paschal truce. The Scots responded. By sunset, the English army had been routed and the Duke of Clarence lay dead on the field of battle. As Pope Martin V observed upon hearing the news, "the Scots are well-known as an antidote to the English".

Following the victory, the Dauphin was quick to recognise the valour of his Scottish forces. He'd already created a personal bodyguard for himself consisting solely of Scots, the Garde Ecossaise. Now Buchan was made Constable of France and, so, put in command of the French army.

Reversals of fortune were also to come the way of the Scottish army in the years which followed. Indeed, Buchan himself was killed in battle at Verneuil in Normandy in 1424. These defeats, however, were almost always due to evaporation of French support at key moments during conflict. Hence, the courage of the Scots was never called into question up to, and including, that first great campaign of St Joan of Arc in 1429.

The Relief of Orléans
Joan was led into the besieged city of Orléans on April 28th, 1429, to the celebratory skirl of the Scottish pipes. The tune played for her was "Hey Tuttie Taiti". The same tune that had marched Robert the Bruce into battle at Bannockburn a century before. The same tune that Robert Burns would set to his poem "Scots Wha Hae" centuries later.

Her escort consisted of 60 Scottish men-at-arms and 70 Scottish archers led by Sir Patrick Ogilvy of Auchterhouse, hereditary sheriff of Angus. And her standard, depicting God as King of Heaven, was made a few months previous by Hamish Powers, a Scotsman living in the city of Tours.

There to welcome her was the bishop of the city. And, yes, he was a Scotsman too. John Carmichael was his name although he was known to his French flock as Bishop Jean de St Michael. A priest and a native of Lanarkshire, Carmichael was amongst the victors at Baugé and the survivors at Verneuil. Indeed, one of his first acts upon becoming bishop was to institute a Messe Ecossais for the souls of the Scottish dead. That pious custom continues to this day.

"I think the part of the Scots is really underestimated and underappreciated" says Ben Kennedy, a Kentucky based military historian and keen student of all things connected with St Joan. He estimates that Scottish soldiers would have made up about a quarter of St Joan's army sent to relieve Orléans.

Here's how Andrew Lang, through the eyes of his monk, Norman Leslie, dramatically describes those battles which relieved Orléans, scattered the English from the surrounding lands and finally swung the Hundred Years War decisively in favour of France;

"Come on!" cried Randal Rutherford. "Come on, men of the Marches, Scots of the Forest, Elliots, Rutherfords, Armstrongs, and deem that, wheresoever a Southron slinks behind a stone, there is Carlisle wall!"

The Rough Clan roared "Bellenden!" the Buchanans cried "Clare Innis," a rag of a hairy Highlander from the Lennox blew a wild skirl on the war-pipes, and hearing the Border slogan shouted in a strange country, nom Dieu! my blood burned, as that of any Scotsman would. Contrary to the Maid's desire, for she had noted that I was wan and weary, and had commanded me to bide in cover, I cried "A Leslie! a Leslie!" and went forward with my own folk, sword in hand and buckler lifted.

Beside good Randal Rutherford I ran, and we both leaped together into the ditch. There was a forest of ladders set against the wall, and I had my foot on a rung, when the Maid ran up and cried, "Nom Dieu! what make you here? Let me lead my Scots"

Victory after victory ensued. The military procession to Rheims continued with the Garde Ecossaise providing an escort for both Joan and the Dauphin. And so, in the July, King Charles VII was crowned by six bishops including Bishop Carmichael.

St Joan's legacy
This April sees the 100th anniversary of St Joan's beatification. The month of May marks her feast day which commemorates her martyrdom by flame at the hands of the English in 1431. Her last words, "Jesus, Jesus, Jesus". In 1909 Pope Pius X drew this lesson from her life and death, "The name of a young maiden of Orléans, noble for all time... is a witness to divine power, which "has chosen what is weak in the world to confound what is strong".

David Kerr is a reporter with the BBC who lives in Glasgow, Scotland.
This article was orginally published in the Scottish Catholic Observer in May of 2009(16.IV.09).