Jeannie Dark Statue
at Stirling Castle in Scotland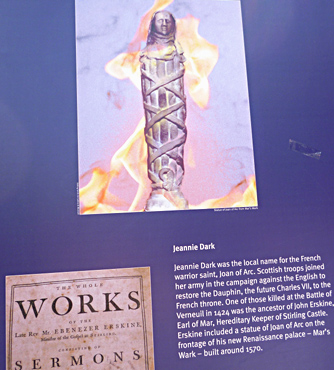 Jeannie Dark was the local name for the French
warrior saint, Joan of Arc. Scottish troops joined
her army in the campaign against the English to
restore the Dauphin, the future Charles VII, to the
French throne. One of those killed at the Battle of
Verneuil in 1424 was the ancestor of John Erskine,
Earl of Mar, Hereditary Keeper of Stirling Castle.
Erskine included a statue of Joan of Arc on the
frontage of his new Renaissance palace - Mar's
Wark - built around 1570.
Special thanks to Deborah McLernon for Photos - Visit her website for more info about
Joan of Arc and the Scottish Auld Alliance
PREV PICTURE&nbsp &nbsp &nbsp &nbsp &nbsp &nbsp &nbsp &nbsp &nbsp &nbsp &nbsp &nbsp &nbsp &nbsp &nbspNEXT PICTURE
Add Joan of Arc as Your Friend on Facebook at http://www.facebook.com/saintjoanofarc1
Please Consider Shopping With One of Our Supporters!