Joan Of Arc Band
NOTHING TO DO WITH
SAINT JOAN OF ARC

The Indie rock band going by the name of Joan of Arc has nothing to do with the historical figure Joan of Arc other than their name. They have one album titled Joan of Arc, Dick Cheney, Mark Twain that contains a title song of the same name but that is the only reference to Saint Joan of Arc, and a mere mention of her name at that, in all of their music. What is far worse than their using Joan's name without honoring her in any way are some of this bands very offensive song and album titles that are an insult to the name and memory of Saint Joan of Arc.

Read complaint to Google about including this band in Joan of Arc search results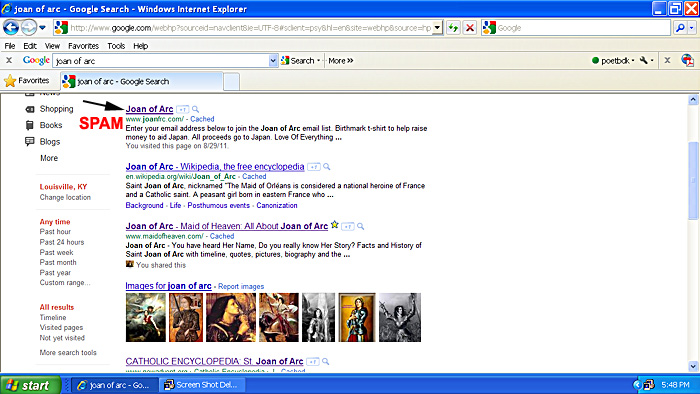 Complaint by Virginia Frohlick of the St. Joan of Arc Center

"Search results offensive to the Catholic Faith and the Name and Memory of one of GOD'S most renown and wildly admired WOMEN of history!

By having an irreverent and most distasteful band 'JOAN OF ARC' end up being one of the FIRST results on your search engine is an affront not only to Catholics, but to all cultures who cherish Joan's name and memory!

This band creates music that is horribly OFFENSIVE to women in general, the Catholic Church as well as the HONORED memory of the historical figure of Joan of Arc.

Your company highly regards it's reputation of bring the front line defenders against any form of INTOLERANCE and INSENSITIVITY, when ever and where ever it shows its ugly head, yet you BETRAY your high standards when it comes to this subject.

To display the band's search results next to the true Joan of Arc shows great intolerance and insensitivity to the Catholic religion, to women in general and to those cultures who do honor Joan's memory.

It would be better for your company to consider this band as being 'spam', if you wish to maintain your respected reputation of 'guardians' against intolerance of any kind as well as your sensitivity towards all religions and cultural heritage, by restrict, or better still by eliminating, the offensive band's search results so as to show just how tolerant and respectful you are to the Catholic faith, women world wide, cultural heritage, and the personage of the true Joan of Arc.

Sincerely,
Virginia Frohlick
THE SAINT JOAN OF ARC CENTER"
HOW TO COMPLAIN TO GOOGLE
You can complain to Google about this spam in their index by following these steps:

Do a Google search for "Joan of Arc" and go to the bottom and find "Give us feedback" and click.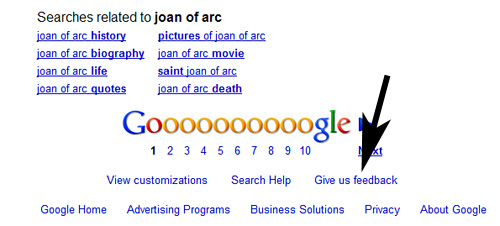 On the page that appears click beside "Google's search results weren't helpful"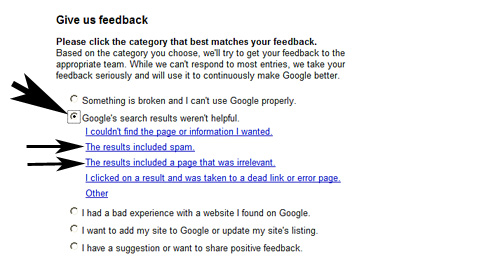 If you do not have a Google account then click on "The results included a page that was irrelevant" and fill in the boxes that appear with the url of the site www.joanfrc.com along with your complaint and click send.

If you have a Google account then you can file a more detailed complaint by clicking "The results included spam" and by clicking on the button "Report webspam" toward the bottome of the page that appears.

Below is a copy of the letter sent to Google CEO Larry Page by Ben D. Kennedy: