Descriptions of Joan of Arc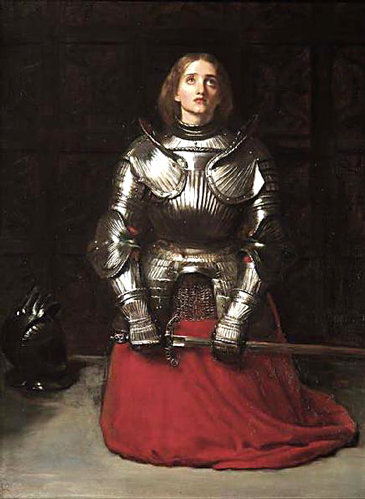 To get an idea of what Joan of Arc was like it is best to read the words of the people who knew her while she was alive. Below are actual descriptions of Joan by different people who knew her at the different stages of her life.
CHILDHOOD
"Joan the Maid, in the time of her youth until she left her father's house, was a good, chaste and simple girl, modest in manner, taking not the name of God nor of His saints in vain, fearing God. She went frequently to church and frequently confessed. The cause of my knowing this is that I was, in those days, churchwarden at the church of Domremy and often did I see Joan come to church, to Mass and to Compline. And when I did not ring the bells for Compline, Joan would catch me and scold me, saying that I had not done well; and she even promised to give me some wool if I would be punctual in ringing for Compline.&nbsp .&nbsp .&nbsp ." &nbsp &nbsp Perrin Drappier - churchwarden of Domremy in Joan's childhood

"From my childhood I knew Joan the Maid who was born at Domremy to Jacques d'Arc and Isabelle, husband and wife, honest and decent farmers and true Catholics of good repute. I know this because I was often in company with Joan, and being her friend I went to her father's house.&nbsp .&nbsp .&nbsp .Joan was a good, simple and sweet-natured girl, she went often and of her own will to church and the sacred places and often she was ashamed because of people remarking how she went so devoutly to church. I have heard the priest who was there in her time say that she often came to confession. Joan busied herself like any other girl; she did the housework and spun and sometimes, I have seen her, she kept her father's flocks." &nbsp &nbsp Hauviette - childhood friend of Joan

Joan was of good behavior, devout, patient, going readily to church, willingly to confession, and gave alms to the poor when she could, as I witnessed, both in the town of Domremy and at Burey, at my house, where Joan resided during a period of six weeks. Willingly did she work, spinning, ploughing, keeping the cattle, and did other work suitable for women." &nbsp &nbsp Durand Laxart - Joan's uncle

"I was brought up with Joan the Maid next door to her father's house. I know that she was good, simple, pious, fearing God and his saints; she went often and of her own will to church and to sacred places, caring for the sick and giving alms to the poor; this I saw myself, for when I was a child I myself was sick and Joan came to comfort me.&nbsp .&nbsp .&nbsp ." &nbsp &nbsp Simonin Musnier - farmer and childhood friend of Joan

APPEARANCE
"I went to her lodging to see her: and she sent for wine and told me we should soon drink wine in Paris. And there seemed something wholly divine in her manner, and to see her and hear her." &nbsp &nbsp Guy de Laval

"Although she was a young woman, beautiful and well formed, and when helping to arm her or otherwise I have often seen her breasts, and although sometimes when I was dressing her wounds I have seen her legs quite bare, and I have gone close to her many times, and I was strong, young and vigorous in those days, never, despite any sight or contact I had with the Maid, was my body moved to any carnal desire for her."&nbsp &nbsp Jean d'Aulon

PERSONALITY
"The Maid is of satisfying grace of a manly bearing, and in her conversation displays wondrous good sense. Her voice has a womanly charm; she eats little, partakes even more sparingly of wine. She delights in beautiful horses and armor, and greatly admires armed and noble men; avoids contact and conversation with the many, sheds tears freely, her expression is cheerful and she has great capacity for work." &nbsp &nbsp Perceval de Boulainvilliers

"In truth I believe that Joan could only have been sent from God. She never swore, she loved to attend holy service, she made devoutly the sign of the cross, she confessed often and was zealous in giving alms. It happened to me several times to provide her with money, which she gave for the love of God." &nbsp &nbsp Jean de Metz

"Whenever she heard anyone taking in vain the Name of God, she was very angry; she held such blasphemies in horror: and Jeanne told La Hire, who used many oaths and swore by God, that he must swear no more, and that, when he wanted to swear by God, he should swear by his staff. And afterwards, indeed, when he was with her, La Hire never swore but by his staff." &nbsp &nbsp Brother Seguin de Seguin - Professor of Theology

"Jeanne was abstemious in food and drink; nothing came from her lips but excellent words, which could serve only for edification and good example. No one could be more chaste... She confessed herself frequently, being often in prayer, hearing Mass every day, and constantly receiving the Sacrament of the Eucharist; she would not suffer any to use in her presence shameful or blasphemous words, and by her speech and actions she showed how much she held such things in horror." &nbsp &nbsp Raoul de Gaucourt - Knight and military advisor to Charles VII

"In war and in camp, when there was not enough provision, she would never eat stolen food. I firmly believe she was sent from God on account of her good works, and her many virtues. Even on the poor English soldiers she had so much compassion that, when she saw them dying or wounded, she had them confessed. So much did she fear God, that for nothing in the world would she displease Him. When she was wounded in the shoulder by an arrow-which went through from one side to the other-some spoke of "charming" her, promising in this manner to cure her on the spot. She replied that it would be a sin, and that she would rather die than offend God by such enchantments." &nbsp &nbsp Father Jean Pasquerel


FAITH
"Many times I saw Joan on her knees. She seemed at her prayers, but I did not well understand what she said. Often enough she wept." &nbsp &nbsp Louis de Coutes

"From everything that I knew of her, Joan appeared to me a good and modest woman who lived a Christian life. She heard that Mass very gladly and never missed a possible opportunity of doing so. She was angry when she heard anyone blaspheming God's name or anyone swearing. I heard her reprimand my lord Duke of Alencon several times for swearing or uttering some blasphemy. On the whole, nobody in the army would have dared to swear or blaspheme in front of her for fear of a reprimand from her." &nbsp &nbsp Louis de Coutes

"I knew the Maid to be a very devout creature; she stood most devoutly when attending out Lord's divine services, which she continually wanted to hear; that is to say, High Mass in whatever place she was, and also the subsequent Hours on solemn festivals, and the Low Mass on other days. She was in the habit of hearing Mass every day, if that was possible."&nbsp &nbsp Jean d' Aulon

"Joan was extremely chaste, and she loathed the women who followed the train of the army. I once saw her at Saint Denis, on the return from the King's coronation, pursuing one of these girls with her sword drawn, and she broke her sword on this occasion."&nbsp &nbsp Duke of Alencon

"From all that I saw of her, I always considered her to be a good Catholic and a devout woman, and I have several times seen her take our Lord's Body; and when she saw the Host, she often wept plentiful tears. She took the Holy Eucharist twice a week and often made confession."&nbsp &nbsp Duke of Alencon

"I never saw anything evil in her, either in word or deed, but always simplicity, humility and chastity. She was in the habit of confessing frequently and hearing Mass daily. She often told my mother, in whose house she lodged, that she must put her trust in God and that God would aid the town of Orleans and drive away the enemy" Charlotte, daughter of Jacques Boucher of Orleans

"As for me, I believed that she was sent from God, because, at the time when she appeared, the King and all the French people with him had lost hope and everyone thought that they should retreat and save themselves." &nbsp &nbsp Brother Seguin de Seguin - Professor of Theology


AS A SOLDIER
"In all her acts, aside from the facts of war, she was just a simple girl. But in war she was very expert, whether to carry a lance, to assemble an army, to order a battle, or to dispose the artillery. All marveled to see how in military matters she acted with as much sagacity and foresight as if she had been a captain, making war for twenty or thirty years. It was especially true in the placing of artillery that she well understood herself." &nbsp &nbsp Duke of Alencon

"I saw her mount her horse, all in white armour excepting the head, a little axe in her hand. The great black charger was very restive at her door and would not let her mount. 'Lead him,' she said, 'to the cross which is in front of the church,' and there she mounted, the horse standing still as if he had been bound. Then turning towards the church which was close by she said in a very womanly voice. 'You priests and people of the Church, make processions and prayers to God for us'; then turning to the road, 'Forward! Forward!' she said. Her unfolded standard was carried by a page; she had her little axe in her hand&nbsp .&nbsp .&nbsp ." &nbsp &nbsp Guy de Laval

"One of those who carried the torches approached so near her banner that it caught fire, so she spurred her horse, turning him gently toward the banner. She extinguished the fire as easily as if she had long war expertise; and the soldiers considered this a great marvel as did the citizens of Orleans." &nbsp &nbsp Journal of the Siege

"When Jeanne first entered Orleans whe went, before all else, to the Great Church, to do reverence to God, her Creator." &nbsp &nbsp Jacques l'Esbahy

"She was accustomed, before going to an assault, to take account of her conscience, and to receive the Sacrament after hearing Mass" &nbsp &nbsp Charlotte, daughter of Jacques Boucher of Orleans

"Someone said to Joan that of course she was not afraid of joining in an attack because she knew she would not be killed. She answered that she had no more assurance of that than anyone else in the fight." &nbsp &nbsp Marguerite la Touroulde

"After the Maid and her soldiers had maintained the siege before the city for some time, an assault was ordered and made and all did their duty. But because of the great strength of the place, and also the great resistance made by those within, the French were forced to retreat. At this hour he who speaks, being wounded by an arrow in the heel, as such without crutches I could neither move nor sustain myself, saw that the Maid had remained behind with very few soldiers indeed. Fearing what might follow I mounted a horse, and hastily riding to her I asked her what she was doing there alone and why she had not retreated like the rest of the men. But the Maid, lifting the face guard of her helmet replied: 'I am not alone! I have fifty thousand of my own company to fight with me and retreat I will not until I have taken this town.' Whatever she might have said she had not with her more than four of five men, as I know for certain as do several others who were looking on, so I urged her to retreat like the rest. Then she told me to tell the men to bring faggots and brush to make a bridge across the moat which she yelled to the rest in a loud voice." &nbsp &nbsp Jean d'Aulon

"All of the Maid's exploits seemed to me rather divine and miraculous than otherwise. It would have been impossible for any as young as the Maid to have performed such deeds except at the will and guidance of God."&nbsp &nbsp Jean d'Aulon

"I believe that Joan was sent by God, and that her deeds in the war were the fruit of divine inspiration rather than of human agency." &nbsp &nbsp Jean Count of Dunois (Bastard of Orleans)


"The soldiers considered her a saint, for she behaved in such a godly way when with the army, both in her deeds and her words, that not one could have uttered a reproach against her." &nbsp &nbsp Jean Barbin


IN PRISON
"I saw Joan for the first time during her imprisonment in the castle of Beaurevoir, where she was being held for the Count of Ligny [Jean de Luxemburg]. I saw her in prison several times and spoke to her often. It even happened once while playing with her that I put my hand on her breast but she would not suffer this, and repulsed me with all of her might. She was indeed a good woman who conducted herself honestly, in her words as well as in her behavior." &nbsp &nbsp Haimond de Macy

"Once as I conducted her before the judges Joan asked me if there was not on the way some church or chapel in which was the body of Our Lord Jesus Christ. I answered her that there was, and showed her a chapel situated under the chateau, near our way. Joan at once requested me to let her pass before it, that she might there salute God, and pray. I consented willingly, and allowed her to kneel before the chapel. Bowed to the ground, Joan devotedly said her prayers." &nbsp &nbsp Jean Massieu

DEATH
"When Joan saw the fire, she told me to get down and to raise our Lord's Cross very high so that she could see it, and this I did. Right up until the end of her life she maintained that the Voices she heard were of God, and that all that she had done she had done at God's command, and that she did not believe that she had been deceived by her Voices, and that the revelations she received were from God. And that is all I know." &nbsp &nbsp Martin Ladvenu

"And then she was led to the Vieux Marche, and beside her walked Friar Martin and myself, with an escort of eight hundred soldiers armed with axes and swords. And when she came to the Vieux Marche she listened to the sermon with great fortitude and most calmly, showing signs and evidence and clear proof of her contrition, penitence and fervent faith she uttered pious and devout lamentations and called on the Blessed Trinity, and upon the blessed and glorious Virgin Mary, and on all the blessed saints in Paradise, naming many in her devotions, her lamentation, and her true confession of faith. She also most humbly begged all manner of people, of whatever condition or rank they might be, and whether of her party or not, for their pardon and asked them kindly to pray for her, at the same time pardoning them for any harm they had done her. This she continued to do for a very long time, perhaps for half an hour and until the end. The judges who were present, and even several of the English, were moved by this to great tears and weeping, and indeed several of these same English, recognized God's hand and made professions of faith when they saw her make so remarkable an end." &nbsp &nbsp Jean Massieu
Please Consider Shopping With One of Our Supporters!