☰
General Patton's Famous Weather Prayer
Shows How to Pray During Battle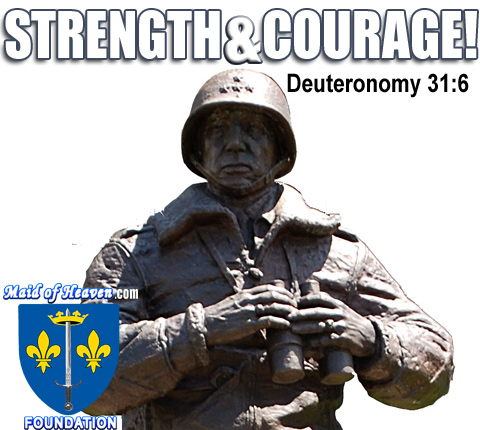 (Image message above from Inspirational Devotional Message you can read HERE)
In December of 1944 with Allied armies poised to enter Germany and end the war the Germans launched a massive counterattack that caught everyone except General George S. Patton by surprise. Having anticipated that the Germans would launch such an attack through the lightly held lines in the Ardennes (Patton, Robert H. The Pattons New York: Crown, 1994. pg 268) Patton had already ordered his staff to plan for shifting his whole army 90 degrees to the north to strike the southern flank of the German advance. When the supreme Allied commander Dwight D. Eisenhower asked Patton if he could swing his army north he was surprised to learn that Patton was already planning to do exactly that. The scene in the movie Patton portraying this moment in history dramatically captures what for Patton had to be the highlight of his career since he had lived and trained for just such a moment to "seize the day." After other Allied Generals reported that they could not possible make relief efforts for at least several weeks Patton responded to everyone's astonishment that: "I can attack with three divisions in 48 hours." Even if the real General Patton never actually spoke these exact words which he surely would have relished speaking he did even better by launching just such an attack and was able to relieve the heavily pressured forces at Bastogne the day after Christmas which effectively ended the German offensive.
Patton would be the first to admit that he never would have been able to pull off this miraculous feat if he had not had some extra help. The Germans had counted on bad weather to ground the Allied Air forces during their attack and the terrible weather had not only done that but had also hampered the movements by Patton's army to move north in time to save the 101st Airborne troops surrounded and cut off at Bastogne. Patton was afraid that if the weather did not improve his troops would not be able to get to Bastogne in time. As a Christian man he knew there was only one way to get the weather to improve and that was through prayer. Patton was a great believer in the power of prayer as shown by his words below that he spoke to his Chief of Chaplains Father James O'Neill shortly before the Battle of the Bulge began:
"Chaplain, I am a strong believer in Prayer. There are three ways that men get what they want; by planning, by working, and by Praying. Any great military operation takes careful planning, or thinking. Then you must have well-trained troops to carry it out: that's working. But between the plan and the operation there is always an unknown. That unknown spells defeat or victory, success or failure. It is the reaction of the actors to the ordeal when it actually comes. Some people call that getting the breaks; I call it God. God has His part, or margin in everything, That's where prayer comes in. Up to now, in the Third Army, God has been very good to us. We have never retreated; we have suffered no defeats, no famine, no epidemics. This is because a lot of people back home are praying for us. We were lucky in Africa, in Sicily, and in Italy. Simply because people prayed. But we have to pray for ourselves, too. A good soldier is not made merely by making him think and work. There is something in every soldier that goes deeper than thinking or working--it's his "guts." It is something that he has built in there: it is a world of truth and power that is higher than himself. Great living is not all output of thought and work. A man has to have intake as well. I don't know what you call it, but I call it Religion, Prayer, or God."
The prayer that resulted from Patton's desire to seek the help of Almighty God is a great example of how a Christian warrior can pray to God for help during battle. For Patton and his men there was no doubt in their minds that God had answered their prayers and sent the good weather that allowed them to reach Bastogne in time and achieve victory in the Battle of the Bulge. As Patton himself stated to his Chaplain shortly after the battle was won: "Well, Padre, our prayers worked. I knew they would." Patton's famous weather prayer is below:
"Almighty and most merciful Father, we humbly beseech Thee, of Thy great goodness, to restrain these immoderate rains with which we have had to contend. Grant us fair weather for Battle. Graciously hearken to us as soldiers who call upon Thee that, armed with Thy power, we may advance from victory to victory, and crush the oppression and wickedness of our enemies and establish Thy justice among men and nations. Amen."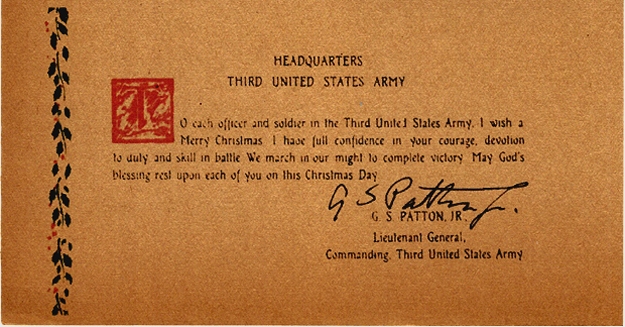 General Patton wrote the following prayer himself for inclusion in a soldiers and sailors prayer book published in 1944 during WWII:
"God of our Fathers, who by land and sea has ever led us to victory, please continue Your inspiring guidance in this the greatest of our conflicts. Strengthen my soul so that the weakening instinct of self-preservation, which besets all of us in battle, shall not blind me to my duty to my own manhood, to the glory of my calling, and to my responsibility to my fellow soldiers. Grant to our armed forces that disciplined valor and mutual confidence which insures success in war. Let me not mourn for the men who have died fighting but rather let me be glad that such heroes have lived. If it be my lot to die, let me do so with courage and honor in a manner which will bring the greatest harm to the enemy, and please O Lord, protect and guide those I shall leave behind. Give us the victory, Lord, Amen."
Psalm 63 was one of General Patton's favorites:
"O God, thou art my God; early will I seek thee: my soul thirsteth for thee, my flesh longeth for thee in a dry and thirsty land, where no water is;

To see thy power and thy glory, so as I have seen thee in the sanctuary.

Because thy lovingkindness is better than life, my lips shall praise thee.

Thus will I bless thee while I live: I will lift up my hands in thy name.

My soul shall be satisfied as with marrow and fatness; and my mouth shall praise thee with joyful lips:

When I remember thee upon my bed, and meditate on thee in the night watches.

Because thou hast been my help, therefore in the shadow of thy wings will I rejoice.

My soul followeth hard after thee: thy right hand upholdeth me.

But those that seek my soul, to destroy it, shall go into the lower parts of the earth.

They shall fall by the sword: they shall be a portion for foxes.

But the king shall rejoice in God; every one that sweareth by him shall glory: but the mouth of them that speak lies shall be stopped."
General George S. Patton Jr. is buried in Luxembourg with some of the men that he led into battle. While a cadet at West Point he wrote the following in a notebook as one of his guiding principles during his life:
"What then of death? Is not the taps of death the first call to the reveille of eternal life?"
The story of the famous Patton weather prayer always fascinated me and since there were some differing accounts of all that transpired I did what most would consider very exhaustive research to discover the truth. As with all history it is God alone that knows the complete truth but after reading the first- hand accounts of both the chaplains involved in writing the prayer along with reading many biographies about Patton, including the two pictured below that really researched well all that transpired, I am very confident that the version I have given above is the most accurate to the best of my ability as a historian and lover of the History of God's people.